Hun Sen takes China to neutralize EBA but 40 private sectors in Cambodia pleas
Posted by:
Cambodian
| Posted on:
January 23, 2019
In his facebook page, Hun Sen has appeared fragile walking and standing to greet China's private sectors and official top leaders in Peking during his 4 days urgent visit (January 20-24, 2019) after EU announced to tax Cambodia rice export in 3 years beginning this January 2019 in which Cambodia enjoyed its free tax previous years. Cambodia could loss 40 millions dollar per year from this taxing. While Hun Sen is departing for China, the regular Cabinet meetings was cancelled with order to send only security documents to his office while Phnom Penh city was seen by tanks, military armours, and his personal body guard unit mobilizing in an excuse to prepare a drill. Spectators convinced that by ranking and bureaucratic regulation, whenever Hun Sen is absent, the next person is Sar Kheng who is able to conduct regular business of the governance but the Cabinet's order is totally opposite.
Frequent updating in his personal facebook page with "likes" hike up over 10 millions is to describe his successes in 600 millions loan and buying rice 40,000 tones, Chinese FDI investments, and increasing importing products from Cambodia etc., while the mainstream China's news, contradictory, confirming the Xi's intention to strengthening Cambodia's consent to broaden Belt and Road Initiative (BRI) and shared future strategic partnership. Note that Cambodia delegates have failed to inspire China to import rice from Cambodia as China has already promised to import Thailand's trillion tones of rice to feed its people.
In Cambodia, 40 private sectors wrote letter to EU to express their concerns on the economic crisis if EU withdraws EBA from Cambodia. And the ASIA-EU Ministerial Meeting delegated by Cambodia foreign minister Prak Sokhonn met negative responses from both Didier Reynders and Cecilia Malstrom by emphasizing restoring back democracy, rule of law, and human rights respect in Cambodia if EBA's withdrawal scheme should be halted.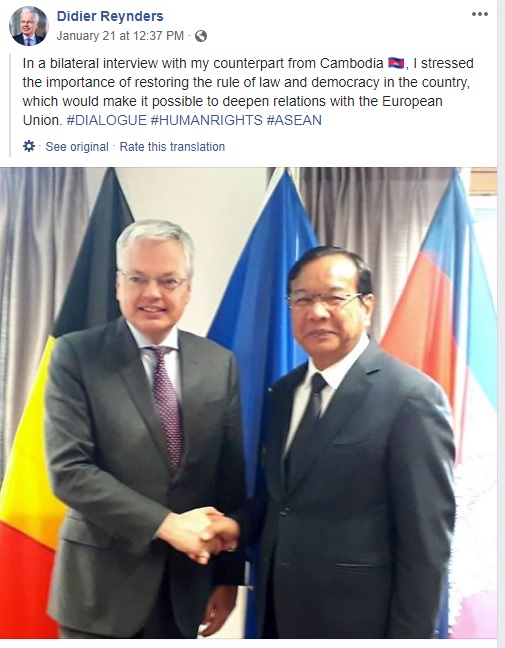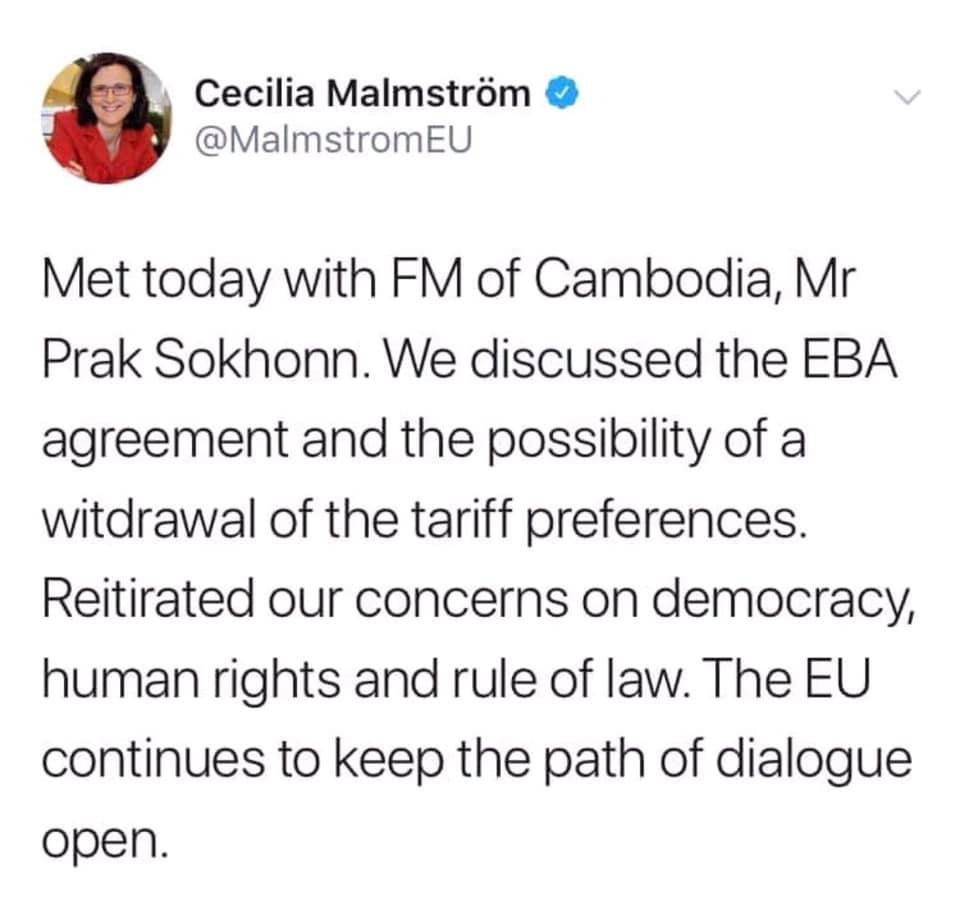 Cambodia Faces Next Trade-Sanctions Move by the European Union
Op-Ed: Bloomberg
By Jonathan Stearns January 22, 2019, 8:59 AM PST Updated on January 22, 2019, 3:00 PM PST
EU Commission seeks support from national capitals by Jan. 29
Any decision to suspend tariff benefits still a year away
The European Union moved closer to imposing trade sanctions against Cambodia as a result of alleged human-rights violations in the country.
The European Commission in Brussels has asked EU national governments to give the green light by Jan. 29 for suspending a policy that lets Cambodia export all goods except weapons duty-free and quota-free to the bloc, according to two officials familiar with the matter. They spoke on the condition of anonymity because the deliberations are private.
Any go-ahead from EU national capitals would still leave a decision by the commission, the bloc's executive arm, 12 months away. At stake is Cambodia's place in the EU's "Everything But Arms" initiative, the most generous part of the bloc's Generalized Scheme of Preferences for poor countries around the world.
The EU's Tariff Threats Against Asia's Autocrats Risk Backfiring
The EU is trying to prod changes in the political behavior of strongman Cambodian Prime Minister Hun Sen while being wary of damaging the country's economy, where a $5 billion garment industry employs 750,000 people and is the biggest exporter.
Hun Sen, who extended his 33-year rule last July when his party won a boycotted election, has so far struck a defiant tone with the European side.
The latest internal EU preparations to withdraw commercial benefits for Cambodia follow a Jan. 21 meeting between European Trade Commissioner Cecilia Malmstrom and Cambodian Foreign Minister Prak Sokhonn. The Everything But Arms — or EBA — accord featured in the talks.
"We discussed the EBA agreement and the possibility of a withdrawal of the tariff preferences," Malmstrom said in a Twitter post after the meeting in the Belgian capital. "Reiterated our concerns on democracy, human rights and rule of law. The EU continues to keep the path of dialog open."
The EU debate over revoking general trade benefits for Cambodia is separate from a decision by the bloc last week to impose tariffs on Cambodian rice for three years as a result of a surge in imports deemed to have hurt European rice producers.
— With assistance by Nikos Chrysoloras
Greater Sino-Cambodian effort sought for Belt, Road
Op-Ed: China Daily
By AN BAIJIE | China Daily | Updated: 2019-01-22 01:28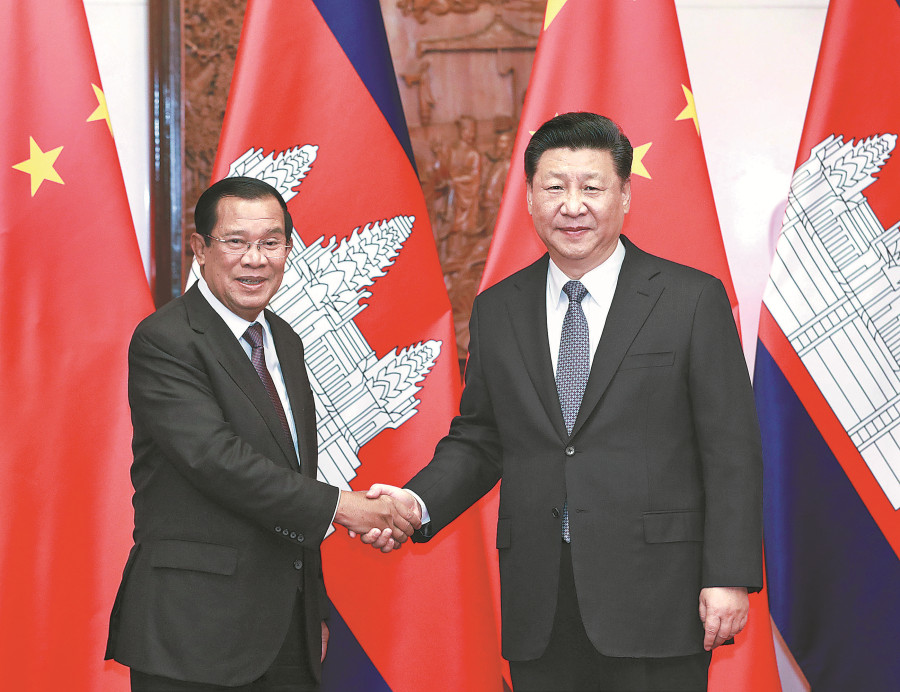 China and Cambodia should speed up connecting the Belt and Road Initiative with Cambodia's development strategy, President Xi Jinping said on Monday.
Xi made the remark while meeting with Cambodian Prime Minister Samdech Techo Hun Sen at Diaoyutai State Guesthouse in Beijing.
The two countries should advance cooperation in five major areas — transportation, production capacity, energy, trade and people's livelihoods, Xi said.
Noting that last year marked the 60th anniversary of the establishment of China-Cambodia diplomatic relations, he said bilateral ties have developed at a high level.
The two countries have made deep and practical progress in jointly building the Belt and Road, Xi said, adding that China and Cambodia have maintained close communication and coordination on global and regional affairs.
The development of China-Cambodia relations is facing new opportunities, Xi told Hun Sen.
China would like to make joint efforts with Cambodia, move toward the goal of building a strategic community of a shared future, set the major areas of cooperation and map out the blueprint for development, Xi said.
The president pointed out that China supports Cambodia in upholding a development path that fits the country's own situation.
China and Cambodia also should focus on cooperation in such areas as politics, economy, security and people-to-people exchanges, Xi said.
The two countries should maintain high-level exchanges, enhance exchanges of governance experience and deepen cooperation under multilateral frameworks including the United Nations and the China-ASEAN mechanism, he added.
They also should enhance culture, tourism, cultural relics protection and restoration, and youth exchanges, Xi said.
Hun Sen told Xi that he visited a major exhibition of China's reform and opening-up achievements in the past 40 years, and that he was deeply impressed by China's achievements.
He said he's glad to see that the Cambodia-China traditional friendship and comprehensive strategic cooperation have been strengthened continuously.
The Cambodian prime minister expressed gratitude for China's support and help for his country.
Cambodia would like to jointly build the Belt and Road with China and enhance cooperation in such areas as agriculture, trade, investment, tourism and infrastructure, he said.
The two countries should enhance law enforcement and security cooperation, strengthen communication on global and regional affairs, and continue to support each other on issues related to major concerns, Hun Sen said.
President Xi Jinping meets with Cambodian Prime Minister Samdech Techo Hun Sen at the Diaoyutai State Guesthouse in Beijing on Monday. Xi said bilateral relations have developed at a high level.
Cambodian infrastructure focus of pacts
Op-Ed: China Daily
By HU YONGQI | China Daily | Updated: 2019-01-23 07:26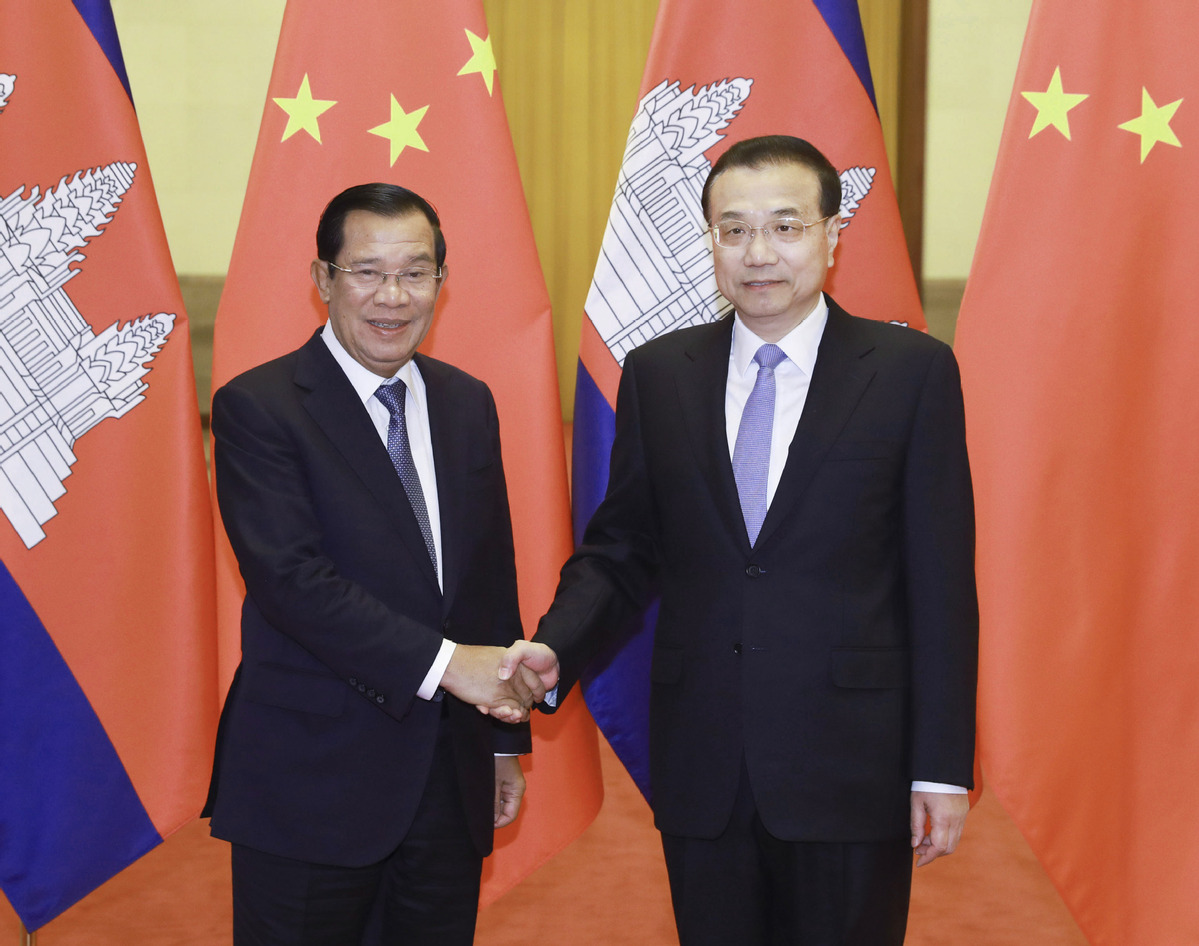 Two nations to work on transportation, water, power facilities, Belt and Road
Eight cooperative agreements were signed between China and Cambodia on Tuesday to promote cooperation in the Belt and Road Initiative and infrastructure, including water supply, highways and reservoir construction
The signing ceremony was witnessed by Premier Li Keqiang and visiting Cambodian Prime Minister Samdech Techo Hun Sen.
Before the ceremony, the two leaders had talks at the Great Hall of the People in Beijing.
China will firmly support Cambodia on its path in line with its own national conditions, and better align the BRI with the country's development strategies, Li said.
Chinese companies are supported in their participation in Cambodia's infrastructure construction and operation in areas such as transportation, power generation and production capacity, he said. Li called on the neighboring country to provide necessary assistance.
The premier called on both countries to carry out key projects, including the special economic zone in the Sihanoukville Autonomous Port, and the 2019 China-Cambodia Year of Cultural Tourism. The two countries should strengthen exchanges and coordination under the China-ASEAN and Lancang-Mekong Cooperation frameworks, he said.
Li also articulated China's willingness to offer help in boosting Cambodia's development and improving the well-being of its people.
Hun Sen said China is a close partner for Cambodia. He congratulated the nation on the 70th anniversary of the founding of the People's Republic of China and the achievements China has made over the past 40 years since reform and opening-up began.
Cambodia is willing to strengthen cooperation with China in infrastructure, trade and agriculture, and expand people-to-people exchanges with closer cooperation in international and regional affairs, he said.
In January of last year, Li visited Cambodia to participate in the second Lancang-Mekong Cooperation Leaders' Meeting in Phnom Penh.
That year marked the 60th anniversary of the establishment of diplomatic ties between the two countries. Hun Sen's trip to China was his first overseas trip this year, said Wu Jianghao, director of the Department for Asian Affairs of the Foreign Ministry, at a briefing after the signing ceremony.
The two countries will make detailed action plans in political, economic, security and people-to-people areas, for building a community of a shared future with strategic significance, a key objective for Hun Sen's visit, Wu said.
Wu said the two neighbors will maintain high-level exchanges and strategic communications, promote economic cooperation in energy and other fields, and enhance alignment of each others' development strategies as well as cooperation in national defense and law enforcement.
In people-to-people exchanges, China and Cambodia will pay particular attention to strengthening exchanges between young people from the two countries, Wu added.