Exiled Cambodian Opposition Leaders Are Indicted as Prime Minister Tightens Grip
Posted by:
Leadership Skills
| Posted on:
March 21, 2019
ទីបំផុតលោកហ៊ុន-សែនត្រូវទទួលស្គាល់ការពិតនៃការបរាជ័យខ្លួនឯងដោយសារអំពើពុករលួយនិងអវិជ្ជា ហើយបង្ខំចិត្តក្រាញអំណាចដឹកនាំប្រទេសតាមផ្លូវមិនប្រជាប្រីយមួយ(unpopular)គឺខ្លួនពាក់ស្បែកផ្តាច់ការតែមាត់និយាយថាប្រជាធិបតេយ្យ។ ក្តីសង្ឃឹមតែមួយគត់របស់គាត់គឺបន្តកុហកបោកប្រាស់ប្រជាជនខ្លួនឯងនិងបំបែកកំលាំងអ្នកប្រជាធិបតេយ្យអោយអស់។ តែពេលនេះអ្វីគ្រប់យ៉ាងគឺហួសពេលហើយសម្រាប់ហ៊ុន-សែន….យុវជនដែលមានតំណាងដល់ទៅ៧០%នៃប្រជាពលរដ្ឋសរុប១៦លាននាក់មានការយល់ដឹងច្បាស់ពីការភូតភររបស់គាត់….កំលាំងតស៊ូអ្នកប្រជាធិបតេយ្យបានកើនឡើងជាលំដាប់គឺកើនជាងពាក់កណ្តាលនគរទៅហើយ។
Op-Ed: New York Times
By Seth Mydans
BANGKOK — A Cambodian court has issued arrest warrants for eight opposition leaders who fled abroad for safety but say they are now trying to return.
The indictment in recent days by a government-controlled court in Phnom Penh, the capital, was the latest effort by Prime Minister Hun Sen to sideline opposition politicians and independent news outlets as he tries to maintain his 34-year grip on power.
Warrants were issued for Sam Rainsy, a founder of the Cambodia National Rescue Party, which has been dissolved; two of the party's vice presidents, Mu Sochua and Eng Chhai Eang; and five other party members.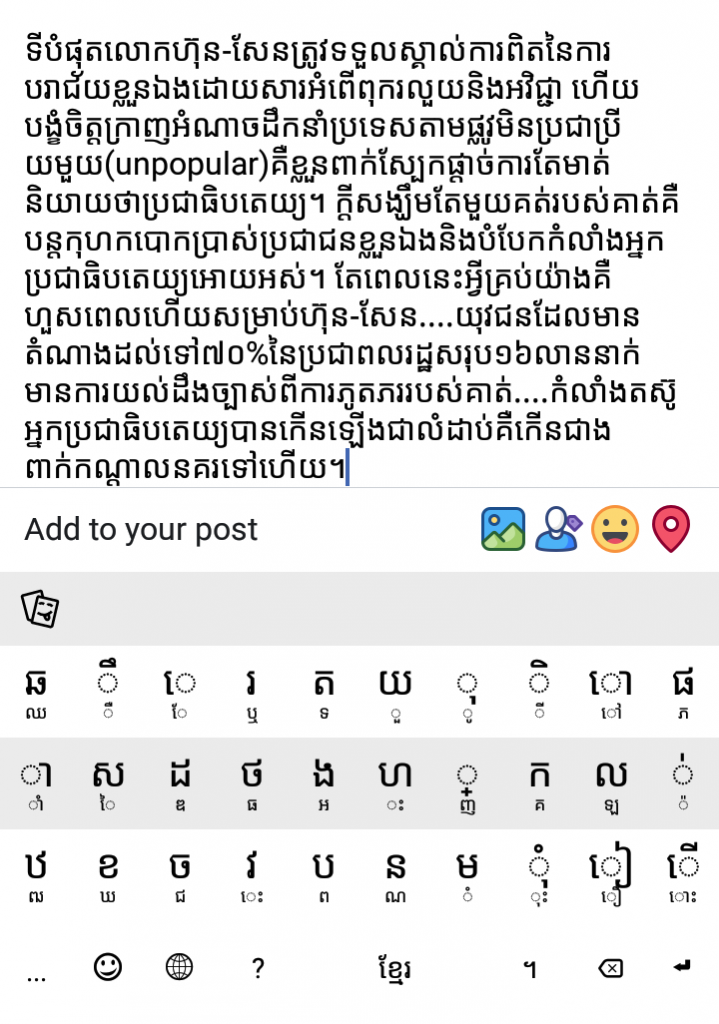 They were charged with incitement to commit a felony and plotting to commit treason, charges they say are without merit.
The eight opposition figures fled the country in 2017, fearing arrest during a crackdown on their party, and they say that if they returned now they would be subject to detention under the new warrants.
"Hun Sen wants to keep full ownership of Cambodia for himself and his family," Ms. Mu Sochua said in an email message from an undisclosed location. "Arrest warrants on top opposition leaders in exile proves even more that Hun Sen has full use of the judiciary."
"Returning home from exile is to be with the people and to restore hope for Cambodia to move forwards to positive change," she added.
The Cambodia National Rescue Party had been the main challenger to Mr. Hun Sen, but it was shuttered by the Supreme Court in 2017, effectively turning the country into a one-party state. In the last parliamentary election, in July 2018, Mr. Hun Sen's Cambodian People's Party claimed all 125 seats.
Mr. Hun Sen has also cracked down on the independent news media, most significantly by forcing the closing of The Cambodia Daily, whose formation in 1993 had been a signal of the country's turn toward openness and democratic rule.
For the past two decades, he has been rolling back democratic standards put in place by the United Nations in the early 1990s, clipping the wings of nongovernmental organizations and human rights groups.
"Under Hun Sen, it's a crime to be an opposition politician inside Cambodia," said Brad Adams, executive director of the Asia division of Human Rights Watch. "Even though he dissolved the opposition and took every seat in last year's sham election, now Hun Sen wants to make it a crime to oppose the government from halfway around the world. It looks like an unpopular dictator is hitting the panic button."
In September 2017, with elections approaching, more than 100 police officers were sent to arrest Kem Sokha, who had founded the Cambodia National Rescue Party with Mr. Sam Rainsy five years earlier and was its president at the time of his detention.
Mr. Kem Sokha was accused of colluding with the United States to overthrow the government; the party was dissolved two months later. Over 100 party members have been barred from politics, and, facing similar charges, many of them fled overseas.
Mr. Kem Sokha was jailed for more than a year before being released on bail in September on the condition that he not travel more than a block from his home in Phnom Penh.
In a statement issued after the indictments, Mr. Sam Rainsy called on the European Union to continue pressing for a return to democracy in Cambodia. A delegation from the bloc is due to visit Cambodia this week to assess its human rights record.
In particular, Mr. Sam Rainsy said, the European Union should push for the unfettered freedom of Mr. Kem Sokha and for the reinstatement of the Cambodia National Rescue Party, which he called "the only credible opposition party."Correction: March 21, 2019
An earlier version of this article misidentified a vice president of the Cambodia National Rescue Party. He is Eng Chhai Eang, not Eng Chhai.