In memories and tributes towards Dr. Benny Widyono who passed away at 83 on 16 March 2019
Posted by:
Leadership Skills
| Posted on:
March 17, 2019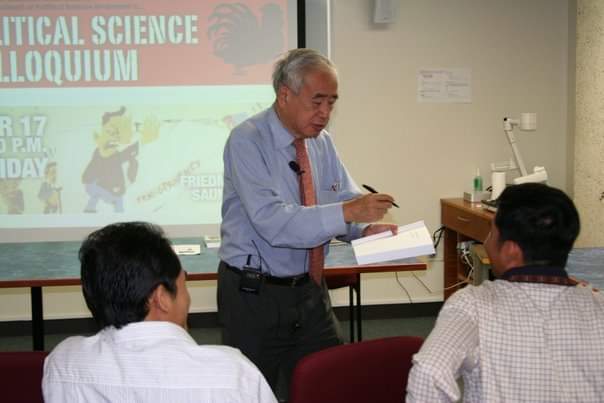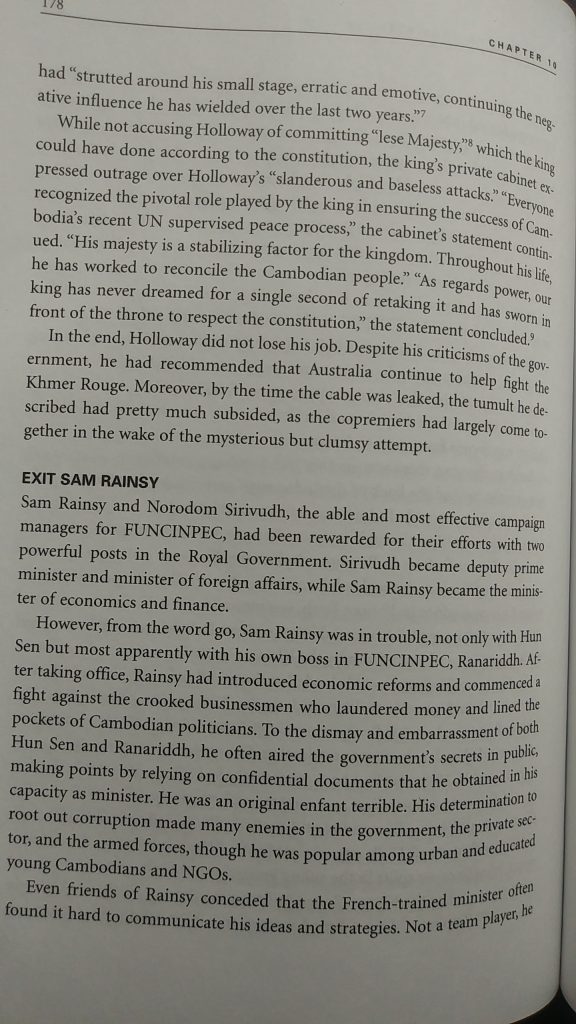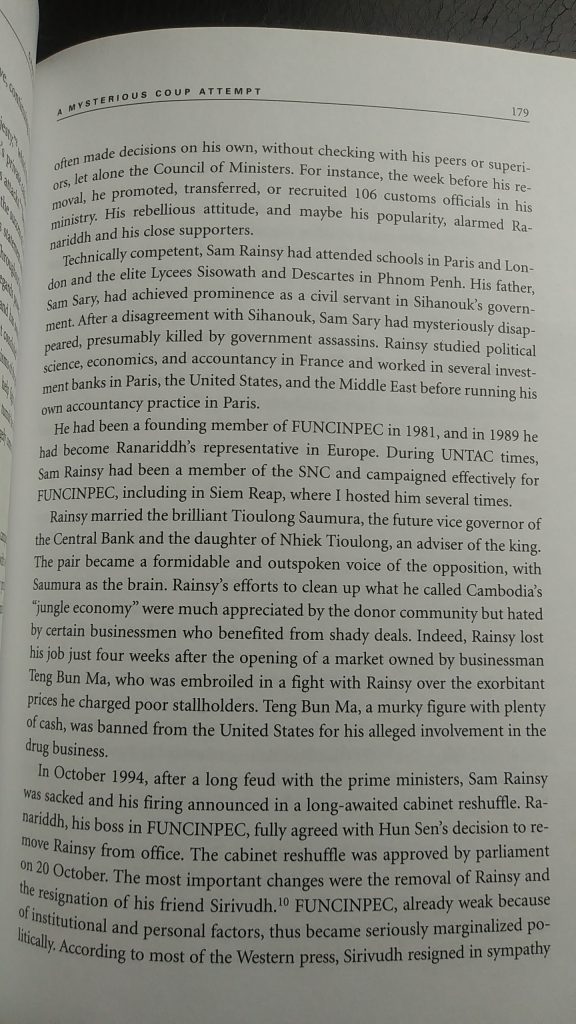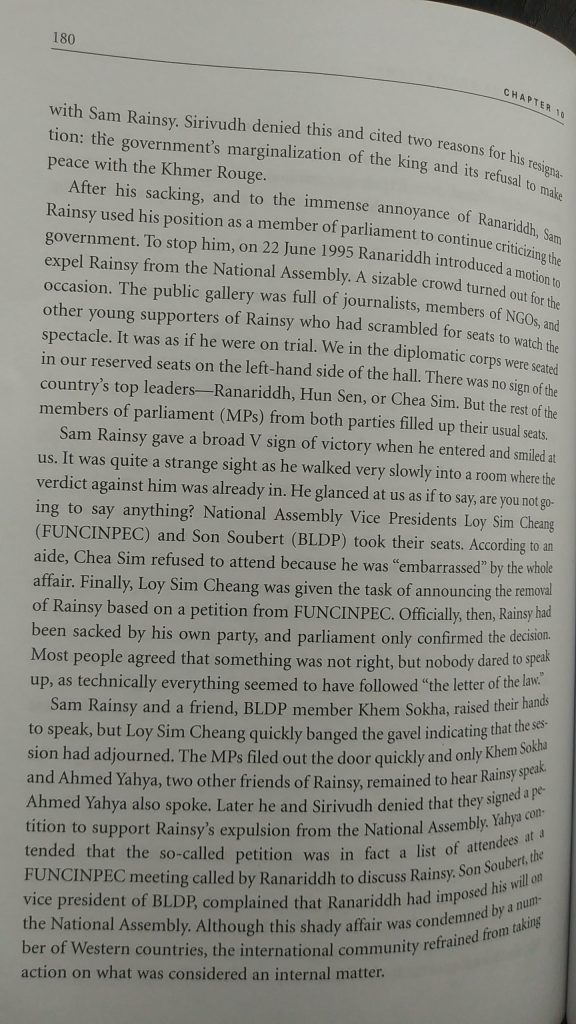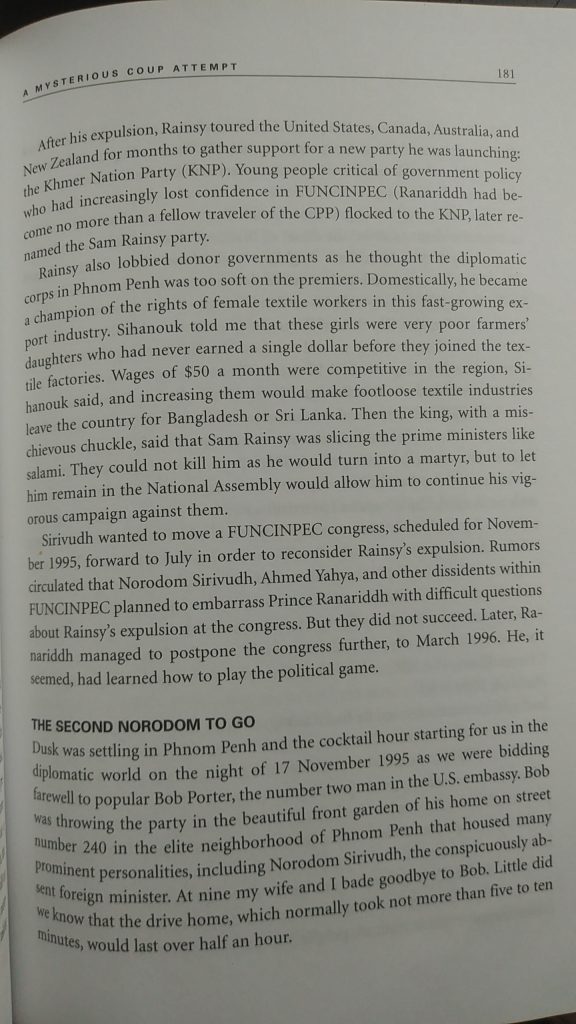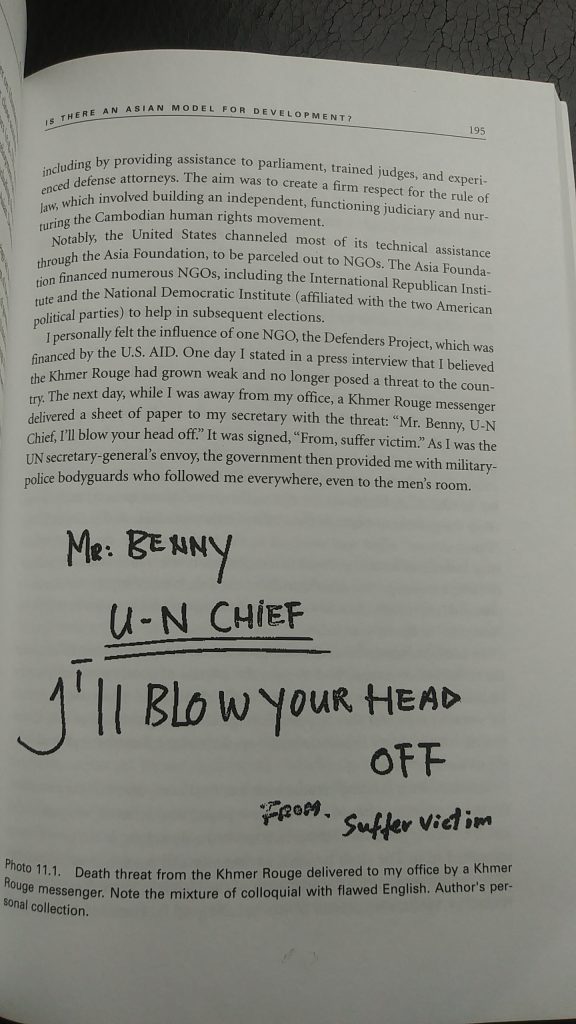 ថ្ងៃនេះខ្ញុំសូមសំដែងនូវសេចក្តីសោកស្តាយនិងចូលរួមកាន់មរណៈទុក្ខដល់ក្រុមគ្រួសារនិងញាតិមិត្តលោកបណ្ឌិត Benny Widyono ដែលបានលាចាកលោកនេះកាលពីខែមីនា ១៦ ឆ្នាំ២០១៩។ លោកធ្លាប់ជាលេខាប្រចាំប្រទេសកម្ពុជារបស់អគ្គលេខាធិការអង្គការសហប្រជាជាតិក្នុងសម័យអ៊ុនតាក់ UNTAC។
តែអ្វីដែលខ្ញុំចង់លើកមកបង្ហាញគឺវគ្គមួយក្នុងសៀវភៅដ៏ល្បីរបស់លោក រាំក្នុងស្រមោល Dancing in Shadow ក្នុងទំព័រទី១១៨ដល់១៨១ គឺការដែលល្បិចនយោបាយឌីហ្វីត DIFID (Divide, Isolate, Finish, Integrate, Develop) របស់លោកហ៊ុនសែនក្នុងការប្រឡេះលោកសម-រង្ស៊ីនិងទ្រង់សិរីវុឌចេញពីហ៊ុនស៊ិនប៊ិចដែលធ្វើអោយបក្សមួយនេះចុះខ្សោយដល់សព្វថ្ងៃ។ តែអ្វីដែលសំខាន់ពេលនោះគឺមានកឹម-សុខាម្នាក់ដែរ ក្នុងតំណែងលោកជាសមាជិកសភាពីគណបក្សព្រះពុទ្ធសាសនាដើម្បីអភិវឌ្ឍន៍របស់លោកតាសឺនសានបានជំទាស់ក្នុងការបណ្តេញលោកសមរង្សុីចេញពីសភាទាំងបំពានច្បាប់នេះ។ ដូច្នេះគោលការណ៍សមរង្សុី-កឹមសុខាជាមនុស្សតែមួយនៃគណបក្សសង្រ្គោះជាតិបច្ចុប្បន្នពិតជាឆ្លុះបញ្ចាំងឧត្តមគតិរួមរបស់អ្នកទាំងពីរកាលពី២៧ឆ្នាំមុន។
រៀបរៀងអត្ថបទដោយលោកសេង សុភ័ណ
Today, I would like to express deep sadness and share condolence with family and friends of Dr. Benny Widyono who passed away this March 16, 2019. He was the key secretary and UN's official during UNTAC in Cambodia.
But what I am most impressed is his book "Dancing in Shadow" in page of 118-181 illustrating the political tactic of Hun Sen's DIFID (Divide, isolate, finish, develop) to divide and isolate Sam Rainsy and Prince Sirivudh which has weakened FUNCIPEC ever-since. But the most exotic memoir is Kem Sokha who was MP from Buddhist Development Party of Sen San stood up to protest in the parliament for this illegal act of expelling Sam Rainsy from the Parliament and stripped off his Parliamentary impunity. So, the principle of Sam Rainsy-Kem Sokha is ONE of modern CNRP has been historically identical of their ideal since 27 years ago.