Happy New Year
now browsing by tag
Posted by:
Cambodian
| Posted on:
January 17, 2017
Political Paradigm of Pragmatism from the Khmer Youth part 93
This part (93), Mr. Sophan takes his precious time to bless all Cambodian compatriots to having good health and continual success for this New Year 2017.
In the meantime, he concluded three distinctive social components i.e. politics, economic, and social as following:
Politics: during the passed year of 2016, he has seen the year of 2016 as the worst one. Many constitutional violations happened within the palm-hand of Prime Minister Hun Sen such as arresting and jailing a Senator and Law-maker without respecting parliamentary impunity well inscribed within the Constitution. Two law-makers were beaten to nearly death by members of PM's bodyguard unit, civil society members of Adhoc were arrested and jailed because of using their own petty cash of their NGO to aide a woman victim, and over 19 activist of opposition party were arrested and jailed, up to the present.

Economic: Cambodian people are the poorest citizen in Southeast Asia. According to annual income indexed by a well-known organization, each Cambodian people earn only over 1200 US dollars a year which is the lowest revenue among those 10 states of Asean. The social gap has been wider while the attempt to raise middle income figure is vocal by the government.

Social: the distrust between Cambodian people and the authority of the government especially with the judiciary system has been wider and riskier leading to intractable social conflict and division.
Posted by:
Cambodian
| Posted on:
December 31, 2016
ជូនពរឆ្នាំថ្មីឆ្នាំសកល ២០១៧
សូមបងប្អូនប្រជាពលរដ្ឋខ្មែរទាំងអស់បាននូវពុទ្ធពរទាំងឡាយ៤ប្រការគឺអាយុ វណ្ណៈ សុខៈ និងពលៈ កុំបីឃ្លៀងឃ្លាតឡើយ។ សូមប្រជាពលរដ្ឋខ្មែរនៅក្រៅស្រុកទាំងអស់មានសិទ្ធិបោះឆ្នោត ដើម្បីកំណត់ជោគវាសនាប្រទេសជាតិរួមគ្នានាពេលខាងមុខ។ សូមយុត្តិធម៌និងសេរីភាពពិតប្រាកដកើតមាននៅលើទឹកដីដ៏ពិសិដ្ឋមួយនេះ។
Happy New Year 2017
May all Cambodians attain 4 blessings of Lord Buddha: Longevity, Brightness, Happiness and Energy. May all Cambodians overseas exercise their voting rights to help build Cambodia collectively. May true justice and freedom anchor this wonder land.
From: Cambodia Leadership Skills, December 31, 2016; www.sophanseng.info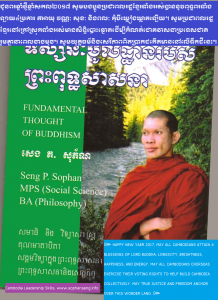 Posted by:
Cambodian
| Posted on:
January 1, 2016
សួស្តីឆ្នាំថ្មី ឆ្នាំសាកល២០១៦
Happy New Year 2016
ក្នុងឱកាសឆ្នាំ២០១៦ឆ្នាំសាកលនេះ
សូមអោយលេខ៩នេះក្លាយជានិមិត្តរូបនៃការផ្លាស់ប្តូរសម្រាប់នាវាកម្អុជា ដែលធ្លាប់មាននិងធ្លាប់គោរពរបស់បុព្វបុរសខ្មែរនាសម័យអង្គរដ៏រុងរឿង។
– ប្រាសាទអង្គរវត្តមានកំពូល៩
– ប្រាសាទបាយន្តមានកំពូលដែលបូកបាន៩ និងព្រះភក្រនៃព្រហ្មវិហារធម៍ដែលបូកបាន៩
– រូបចំឡាក់ទាញព្រាត់ខ្លោងទ្វារចូលប្រាសាទអង្គរធំ ទាំងរូបទេវតានិងរូបអសូរ ម្ខាងៗបូកបាន៩
– ។ល។ និង ។ល។
សូមអរគុណ
សុភ័ណ