Posted by:
Cambodian
| Posted on:
February 18, 2017
Rainsy's Resignation Begins New Chapter
As the article "Rainsy Quits Amid Threat, But CNRP Still in Danger" (February 13) notes, Sam Rainsy resigned as president of the CNRP to save his party from dissolution at the hands of Prime Minister Hun Sen-with commune election coming in June and the national election next year.
Academics see Mr. Hun Sen's non-stop obsession to divide and weaken the CNRP as a pre-emptive tactic before the elections, ensuring his preferred outcome. His activities have surpassed all efforts to reform and destroyed what good might have come of it.
Mr. Rainsy has laid out an inclusive policy to include Cambodians overseas, especially millions of migrant workers, to be able to vote, as opposed to Mr. Hun Sen who has advocated to exclude them.
Apart from his personal integrity and genuine patriotism, Mr. Rainsy is clear and intelligent in handling political truces with Mr. Hun Sen. With more than 23 years experience in leading opposition party, his effort paid off in 2013. Seas of people gathered in tsunamic-like crowd to welcome him back home at the airport a few days prior to the national election, which the CNRP nearly won.
From now on, Mr. Rainsy will be an icon of change and idealistic pragmatism in Cambodia. His political career is not over. As long as Cambodian people, especially younger voters, remain supportive of his decadeslong struggle, his vision for Cambodia will cease to be a dream.
Sophan Seng is executive director of the Committee for Election Rights of Overseas Cambodians.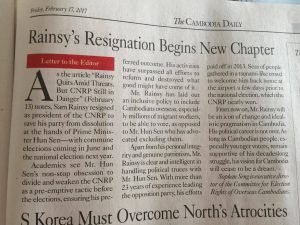 Posted by:
Cambodian
| Posted on:
February 10, 2017
Comment: Commune election 2017 and national election 2018 are fast approaching, the domestic political rivalry has been increasingly tough while international communities and foreign countries have been eagerly anticipating those developments. The hot debate comes along with the hotter political repression inside Cambodia as Cambodia's People Party (CPP) under Hun Sen's leadership has taken "divide and conquer" approach over political will to reform as he promised in post-election 2013. During that time, China also expressed concern on effective leadership of political will of reform of the CPP to gain back trust and confidence from the electorates, but up to today, CPP of Hun Sen has visibly increased the opposite trajectory. Now, the United States of America has deeply stepped in to maintain its democratic value of free and fair election. It seems the latest move Hun Sen is taking doesn't make him good in front of the Cambodian voters, the China and the United States of America as well as other democratic countries/communities. Our puzzling questions are:
Could Hun Sen achieve his attempts to stifle opposition party CNRP by dissolving this party through new law amendment proposal on political party, or his unrivalled attempts to undermine the National Election Committee (NEC)?
Could anyone understand that the latest Machiavellian style Hun Sen has been materializing is a sign to call for a mediation for power sharing?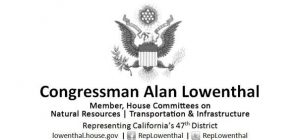 FOR IMMEDIATE RELEASE
Congressmen Lowenthal and Chabot Call On Secretary Of State Tillerson To Ensure Free And Fair Cambodian Elections
WASHINGTON, D.C.
(February 10, 2017) – Congressman Alan Lowenthal (CA-47) and Congressman Steve Chabot (OH-01), co-chairs of the Congressional Cambodia Caucus, today called on Secretary of State Rex Tillerson to ensure that free and fair elections in Cambodia remain a top priority for United States foreign policy in Cambodia.

In a letter, the Congressmen state that the U.S. State Department can play a critical role by communicating to the Cambodian government of Prime Minister Hun Sen the importance of holding elections deemed credible by the international community.

The Congressmen also highlight the passage by the House last year of their resolution, H.Res.728, which established the House's official support for human rights, democracy, and the rule of law in Cambodia. The resolution noted numerous instances of opposition party members in Cambodia being harassed by the country's long-ruling regime, as well as widespread reports of irregularities in the 2013 national elections which resulted in the Hun Sen regime narrowly maintaining its hold on power.

The letter details recent acts of political oppression by the Hun Sen government, including the politically-motivated criminal investigations and charges against the senior officials of the opposition Cambodia National Rescue Party (CNRP).  Sam Rainsy, head of the CNRP, was forced to leave Cambodia and is forbidden from returning, while CNRP deputy leader Kem Sokha was kept under virtual house arrest for months within the party's headquarters. There have also been recent reports that the Hun Sen government is pursuing a legislative proposal that would effectively dissolve the opposition party.

The letter closes by emphasizing that, "In order to foster a political environment where this is possible, the Cambodian government must immediately drop all politically-motivated charges against opposition leaders, cease harassment of the CNRP, allow Sam Rainsy to freely return to the country, and allow independent election observers at all polling places."

Click here to read the full text of the letter.

Congressman Alan Lowenthal represents the cities of Long Beach, Lakewood, Signal Hill, Avalon, Los Alamitos, Rossmoor, Cypress, Westminster, Garden Grove, Buena Park, Anaheim, Midway City and Stanton in California's 47th Congressional District. He can be followed on Facebook, Twitter, or his website.
###
CONTACT:
Phong V. Ly
Policy Advisor / Senior Field Representative
Congressman Alan Lowenthal, CA-47
100 West Broadway | West Tower, Suite 600 | Long Beach, CA 90802

Keith Higginbotham

Communications Director |
Congressman Alan Lowenthal
108 Cannon Office Building
Washington, D.C.  20515
(202) 740-2517
cell
(202) 225-7924
office
Join the online conversation:
Click
here
for more legislative updates from Congressman Lowenthal
Posted by:
Cambodian
| Posted on:
January 31, 2017
Political Paradigm of Pragmatism from the Khmer Youth part 97
This part (97), Mr. Sophan analysed on shortcoming of "critical thinking" among Cambodian citizens especially public leaders, educators, and general citizens.
Up to today, the pure democracy has not existed in this world. Up to today, the pure communism has not existed in this world. The middle path engagement has been visible everywhere. But those countries that are moving away from this middle path are practically fragile states or failed states respectively. Our well-known ancient political philosophers such as Plato said "you should not honor men more than truth", or legendary Socrates who accepted to die than giving up his "true word", or Lord Buddha who advocated for "Dhamma-thepady Democracy or Dhamma Supremacy Democracy" since thousand centuries ago, have lighted up till today. Dhamma Supremacy Democracy literally means "rule of laws democracy". In practice, Bhikkhu monks used major consensus to make decision-making upon well-adopted Vinaya or rule of laws. At least, there are three levels of "rule of laws" taught by Lord Buddha: the conventional truth or man-made rule of laws (Vinaya or disciplinary discourse), natural truth of rule of laws (Dhamma or natural truth of long discourse", and ultimate truth or ultimate rule of laws (Abbhidhamma or ultimate truth of metaphysic discourse". Buddha also addressed the three majority policy such as self supremacy (Atta-thepady), populace supremacy (Loka-thepady), and Dhamma supremacy (Dhamma-thepady) which he concluded that all those supremacy are beneficial by resembling within the line of "rule of laws" or Dhamma, not a single identity.
Look at Cambodia, there seems no core value of "rule of laws" have been embedded. Many civilized nations have evolved their political arguments into monarchy, republican, democrat, or conservative etc. to maximize the interest of their nations. But Cambodia has likely evolved into more self-inflicting political argument than those progressive political embeddedness. While Cambodia has adopted conventional man-made truth (rule of laws) called "Constitution" in 1993, none of the powerful leader has ever dedicated himself to build this truth for this country. As a result, the embeddedness of disarrayed citizenship has been omnipresent displayed. For instance, when two Cambodians are facing road-accident argumentation with each other, the two shall accuse each other to seek "wrong" and "right" rarely upholding principle to depend on nation-state's rule of laws. And for the powerful leader(s), they will use "rule by laws" to accuse or punish individuals or "inferiors" at their helm to legitimize righteousness like what Khmer saying popularly coined "not kick the ball but the player". Constitution has been born by the attempt of "critical thinking" but the Constitutional Council, the three branches of government, and the citizens in general, are running out their inner "critical thinking".