នេះជាទិដ្ឋភាពមួយក្នុងស្រុកចំការលើ ខេត្តកំពង់ចាម។ កាលនៅមធ្យមសិក្សា គ្រូបង្រៀនថាដើម្បីធ្វើអោយសេដ្ឋកិច្ចរីកចំរើន ជីវភាពប្រជាជនមានបានប្រកបដោយភាពថ្លៃថ្នូ ត្រូវផ្តោតទៅលើឧស្សាហកម្ម ដោយលើកឧទាហរណ៏អំពីដីក្រហមកំពង់ចាម ក្រចេះ រតនគីរី ស្ទឹងត្រែង និងមណ្ឌលគីរីជាដើម។ គ្រូប្រាប់ថាដំណាំកៅស៊ូខ្មែរលេខ១លើលោក។
ថ្ងៃនេះខ្ញុំឃើញជាក់ស្តែង។ ដំណាំកៅស៊ូខ្មែរក៏ដូចជាដំណាំស្រូវនៃកសិករខ្មែរ គឺស្ថិតនៅលើប្រភេទដំណាំជាលក្ខណះគ្រួសារនិងពឹងពាក់ទាំងស្រុងទៅលើមេឃ-ដី-ភ្លៀង តាមធម្មជាតិតែប៉ុណ្ណោះ។ ការដាំដុះតាមបែបប្រពៃណីទាំងផ្នែកឧស្សាហកម្ម និង កសិកម្មទាំងនេះមិនអាចរំដោះកម្ពុជាចេញពីភាពក្រីក្របានទេ។
១. បញ្ហាទី១ ប្រជាជនខ្វះចំណេះដឹងនិងធនធានហិរញ្ញវត្ថុ និយាយអោយចំគឺប្រជាជនខ្វះទីពឹងនិងជ្រោមជ្រែងពីខាងក្រៅជាពិសេសពីរាជរដ្នាភិបាល។
២. បញ្ហាទី២ គឺទីផ្សាយកម្ពុជាជាទីផ្សានាំចូល មិនមែនជាទីផ្សានាំចេញទេ។ ទំនិញកម្ពុជាមិនអាចប្រកួតប្រជែងជាមួយប្រទេសជិតខាងបានស្មើមុខស្មើមាត់សោះ ហើយផលិតសម្រាប់តំរូវការទីផ្សារក្នុងស្រុកក៏មិនកើតដែរ នៅពេលដែលក្រុមហ៊ុនធំៗក្នុងស្រុកមួយចំនួនធំចូលចិត្តនាំសម្ភារៈដើមក្រៅស្រុកមកប្រើ។ ទីផ្សាចង្អៀតណែនបែបនេះ រំពឹងអ្វីដល់ការលើកកំពស់ជីវភាពដល់អ្នកដាំស្រូវនិងអ្នកដាំកៅស៊ូ។
៣. បញ្ហាទី៣ គឺកម្ពុជាសំបូរទៅដោយមេដឹកនាំអួត ដូចជាអួតអំពីអង្គរវត្ត អួតអំពីសមិទ្ធិផលថ្មីៗដោយប្រៀបធៀបទៅនឹងសង្គ្រាមប្រល័យពូជសាសន៌ និងអួតអំពីផ្ទះវីឡា រថយន្តទំនើប និងអង្គរក្សអ្នកបម្រើឆ្វេងស្តាំរបស់ខ្លួន ដោយគ្រាន់តែរកទីផ្សារឬបង្កើតទីផ្សារ ឬបង្កើតធនាគារកំចីដោយយកការប្រាក់ទាបដល់អ្នកដាំស្រូវនិងអ្នកដាំកៅស៊ូមិនបានផង។ បើខ្ញុំជាមេដឹកនាំទទូលខុសត្រូវវិញ បើធ្វើប៉ុណ្ណេះមិនបាន ខ្ញុំជ្រមុជទឹកបាតពាងសំឡាប់ខ្លួនល្អជាង។
——
This a view of rubber plantation in Chamkar Leou district, Kampongcham. When I was in high school, teachers taught that if we want to uplift the livelihood of the Cambodian people, we must focus on industry by giving example of brown fertile lands in Kampongcham, Kratie, Ratanakiri, Stung Traeng, and Mondolkiri. They said Cambodia rubber is number one in the world.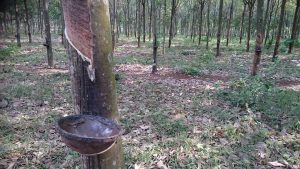 Today, I am eyes-witnessing it. Cambodia rubber plantation is like rice-stalk plantation of Khmer farmers which are categorized in family harvesting and the growing is wholly depending on sky-soil-rain of this natural dependency. The crops depends on tradition like this couldn't uplift Cambodian people from poverty.
1. First challenge: Cambodian people are shortcoming of knowledge and financing especially lacking external supports particularly the Royal Government of Cambodia.
2. Second challenge: Cambodia's market is the import market, not export market. Cambodia's products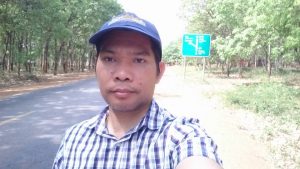 couldn't compete with neighboring countries. To produce for domestic demand is irrelevant as well, as many giant companies prefer to import raw materials for its processing. This type of scarcity and squeezing space of Cambodia market, Cambodian rice farmers and rubber plant growers are hopeless to escape from poverty.
3. Third challenge: Cambodia is rich of bragging leaders such as bragging about the greatness of Angkor Wat, bragging about their new achievements by comparing them to that of genocidal regime, and bragging about their luxury cars, villas, and escorts-servants etc. If leaders couldn't make market, or seek market, or create cheap interest loan (bank) for the rice farmers and rubber plant growers, those leaders should just soak head into bottom of water jar to commit suicide