Cambodia, China to Kick Off Annual Joint Military Exercise Amid Waning Western Influence
Posted by:
Leadership Skills
| Posted on:
February 28, 2019
Cambodia, China to Kick Off Annual Joint Military Exercise Amid Waning Western Influence
Op-Ed: Radio Free Asia Khmer
2019-02-27
Cambodia's Defence Minister Tea Banh (L) speaks to China's Defence Minister Wei Fenghe (2nd L) during a visit to a military exhibition in Phnom Penh, June 19, 2018.AFP
Cambodia and China will kick off preparations for their third annual joint "Golden Dragon" military exercise on Feb. 28, Cambodia's National Defense Ministry announced Wednesday, highlighting improved ties between the two countries as Western influence in the Southeast Asian nation wanes.

In a post to his Facebook account, Ministry of National Defense spokesman Chhum Socheat said that more than 250 Chinese and 2,500 Cambodian military personnel will attend the drill, held at the Chum Kiri Military Shooting Range Training Field in Kampot province's Chum Kiri district.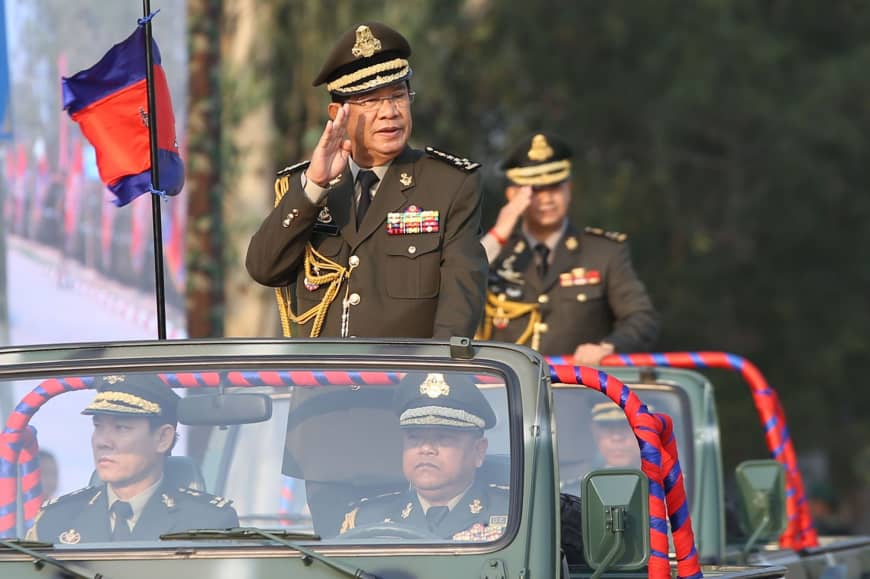 After two weeks of rehearsals, the 15-day exercise will begin with a March 13 opening ceremony attended by Royal Cambodian Armed (RCAF) Commander-in-chief General Vong Pisen and end with a March 27 closing ceremony overseen by Defense Minister General Tea Banh, the post said.

"This military exercise reflects the government's stance that the Royal Cambodian Armed Forces implement the national defense policy between Cambodia and China and for cooperation in all sectors," Chhum Socheat said.

"This drill will also focus on exchanging experience in humanitarian and natural disaster rescue operations, as well as combatting terrorism and peacekeeping."

According to Chhum Socheat, the exercise will involve "important military equipment" including armored trucks, tanks, and helicopters, as well as artillery and mortars.

This year's Golden Dragon exercise is the third and largest joint Cambodia-China military drills to be held on Cambodian soil since Cambodia's Defense Ministry abruptly suspended annual "Angkor Sentinel" joint exercises with the U.S. military and abandoned counter-terrorism training exercises with the Australian military in 2017.

The government had claimed it was too busy preparing security for commune elections in June last year to take part in the exercises, but they have yet to be reestablished.

Observers said at the time that the moves indicated Cambodia was pivoting away from Western influence in favor of better relations with other countries on the rise in Asia, such as China.

Chhum Socheat's Facebook post on Wednesday gave no indication of what portion of Cambodia's budget had been allocated to holding the Golden Dragon exercise, or whether China was footing the bill.

Calls to Chhum Socheat went unanswered on Wednesday, while Tea Banh refused to comment on the exercise when contacted by RFA's Khmer Service, saying he was busy in a meeting.

The Defense Ministry spokesman's announcement came as Prime Minister Hun Sen's son, RCAF army commander Lieutenant General Hun Manet, visits Beijing to promote cooperation between the militaries of Cambodia and China.

Hun Manet has met with several military officials during the five-day trip, which began on Monday and came at the invitation of the Chinese government.

In addition to bolstering ties between the two militaries, the Lieutenant General also discussed the Golden Dragon exercise with Chinese officials, a reports said, without providing details.

Speaking with RFA on Wednesday, international affairs expert Em Sovannara said Cambodia would do "better to reauthorize" military exercises with the U.S. and Australia to dispel any suggestion that it is "tilting towards China."

"As far as the need to enhance national defense is concerned, I think it is necessary for Cambodia to conduct joint military exercises with China," he said.

"However, Cambodia should balance its foreign policy to ensure that it does not appear to be leaning too much in favor of China. It would be wise if Cambodia resumes joint military exercises with other countries as well, like Australia and the U.S."

Naval base

The Golden Dragon exercise comes amid speculation that Beijing is building a 45,000 hectare (111,200-acre) naval base in Cambodia's Koh Kong province, based on a Nov. 15 report by Hong Kong's Asia Times online news portal, which cited unnamed diplomatic sources.

Hun Sen later dismissed the report, saying such a move would violate the constitution, while Cambodia's Ministry of National Defense called it "fake news" and part of a "foreign campaign to mislead the public and the international community with the intention of destroying the country's independence and neutrality."

If such a naval base were built on the Gulf of Thailand, it would allow China to significantly expand patrols on the South China Sea, which Beijing claims much of, while rival Taiwan and ASEAN countries Brunei, Malaysia, the Philippines and Vietnam have their own stakes in the waters.

Earlier this month, Chhum Socheat rejected the U.S. intelligence assessment in an interview with RFA's Khmer Service, saying it had no merit.

But analysts have said the assessment "has solid foundation" and that Hun Sen may be willing to amend the constitution to allow a Chinese military presence in Cambodia.

Trade volume between Cambodia and China was valued at U.S. $5.8 billion in 2017, up 22 percent from U.S. $4.76 billion dollars a year earlier, while China is currently Cambodia's largest investor, and has poured U.S. $12.6 billion into the Southeast Asian nation from 1994 to 2017.

Reported by RFA's Khmer Service. Translated by Nareth Muong. Written in English by Joshua Lipes.