Thursday, February 28th, 2019
now browsing by day
Posted by:
Leadership Skills
| Posted on:
February 28, 2019
Cambodia, China to Kick Off Annual Joint Military Exercise Amid Waning Western Influence
Op-Ed: Radio Free Asia Khmer
2019-02-27
Cambodia's Defence Minister Tea Banh (L) speaks to China's Defence Minister Wei Fenghe (2nd L) during a visit to a military exhibition in Phnom Penh, June 19, 2018.AFP
Cambodia and China will kick off preparations for their third annual joint "Golden Dragon" military exercise on Feb. 28, Cambodia's National Defense Ministry announced Wednesday, highlighting improved ties between the two countries as Western influence in the Southeast Asian nation wanes.

In a post to his Facebook account, Ministry of National Defense spokesman Chhum Socheat said that more than 250 Chinese and 2,500 Cambodian military personnel will attend the drill, held at the Chum Kiri Military Shooting Range Training Field in Kampot province's Chum Kiri district.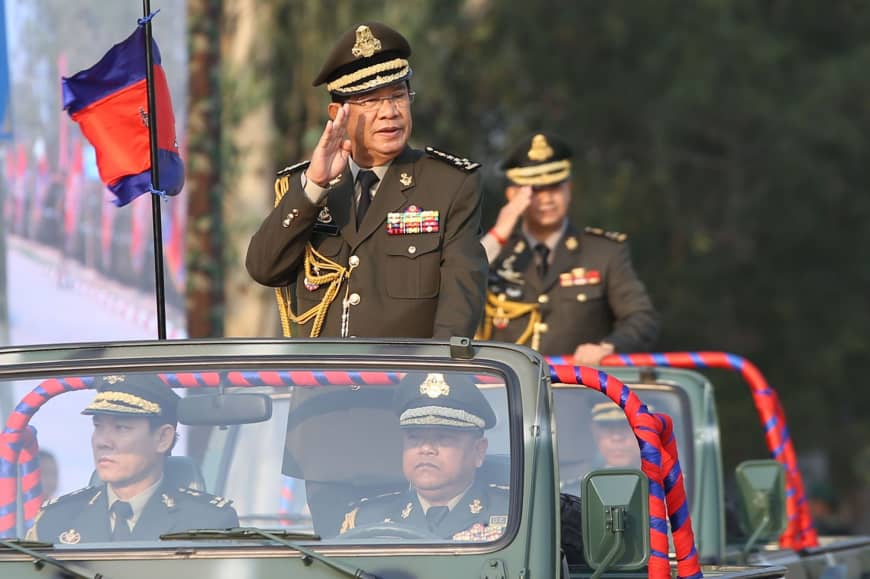 After two weeks of rehearsals, the 15-day exercise will begin with a March 13 opening ceremony attended by Royal Cambodian Armed (RCAF) Commander-in-chief General Vong Pisen and end with a March 27 closing ceremony overseen by Defense Minister General Tea Banh, the post said.

"This military exercise reflects the government's stance that the Royal Cambodian Armed Forces implement the national defense policy between Cambodia and China and for cooperation in all sectors," Chhum Socheat said.

"This drill will also focus on exchanging experience in humanitarian and natural disaster rescue operations, as well as combatting terrorism and peacekeeping."

According to Chhum Socheat, the exercise will involve "important military equipment" including armored trucks, tanks, and helicopters, as well as artillery and mortars.

This year's Golden Dragon exercise is the third and largest joint Cambodia-China military drills to be held on Cambodian soil since Cambodia's Defense Ministry abruptly suspended annual "Angkor Sentinel" joint exercises with the U.S. military and abandoned counter-terrorism training exercises with the Australian military in 2017.

The government had claimed it was too busy preparing security for commune elections in June last year to take part in the exercises, but they have yet to be reestablished.

Read More …