Posted by:
Leadership Skills
| Posted on:
June 11, 2020
Original Source: EU Cambodia, Brussels, 11/06/2020 – 11:43, UNIQUE ID: 200611_3Press releases
As part of the global efforts to support partner countries around the world, Team Europe* is mobilizing 443 million euros in grants and loans to work with Cambodia in fighting the global covid-19 pandemic, and mitigate its socio-economic effects.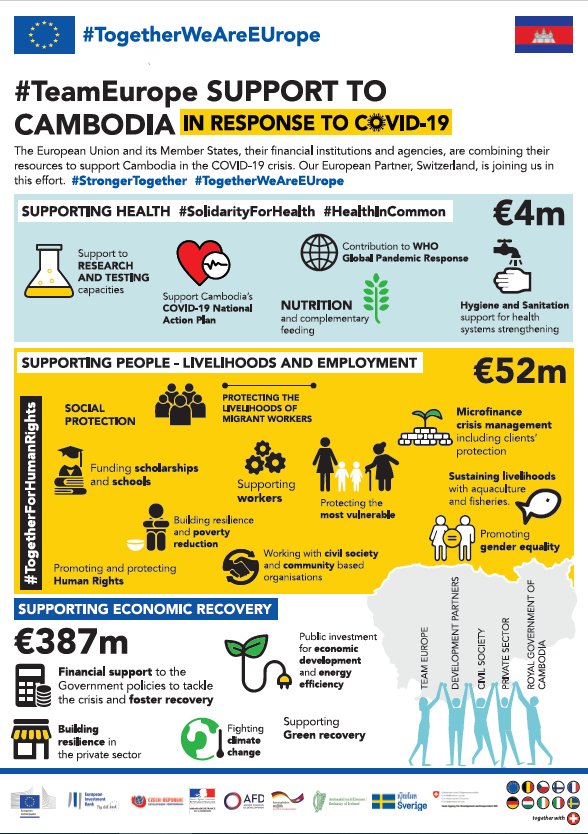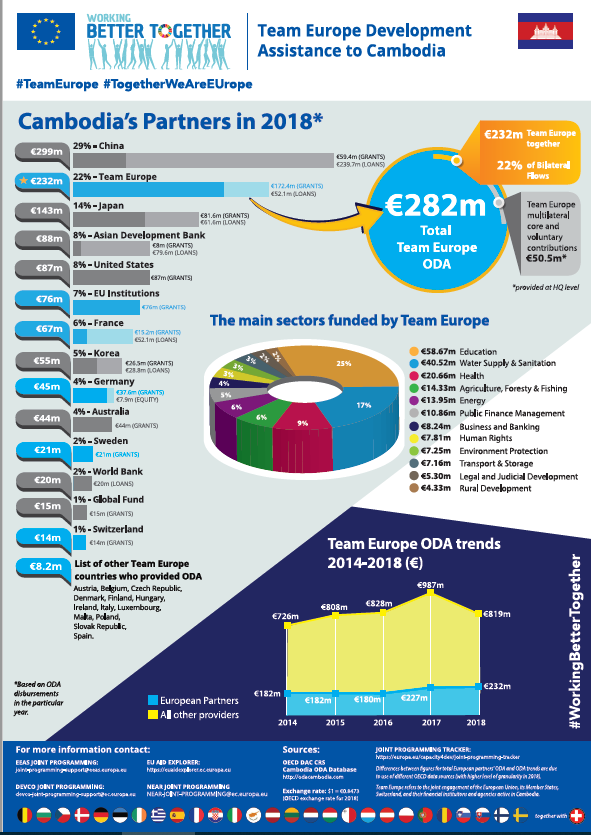 Team Europe is the combined effort of the European Union, its Member States and their financial institutions and implementing agencies. Together, they provide significant financial and technical support to help Cambodia address immediate needs, protect the most vulnerable, mitigate the socio-economic impact of the coronavirus crisis and prepare for recovery. In Cambodia, Team Europe works together with its European partner Switzerland.
All Team Europa programs and projects contribute to enhancing democratic principles, promoting and protecting human rights and strengthening gender equality.
The EU Ambassador to Cambodia Ms Carmen Moreno said: "The coronavirus pandemic demands cooperation and solidarity. Team Europe stands together with Cambodia in these challenging times. We have to work together to ensure a sustainable and strong economic recovery, and to help mitigate the impact of this pandemic on human lives, jobs and livelihoods. To this purpose, we combine our resources and join efforts with the Government, the people of Cambodia and civil society, in response to this global challenge".
The support of the European partners to Cambodia focuses on three essential priorities, in line with the country COVID-19 Master Plan.
In Supporting health, Team Europecontributes to expand research and testing capacities in Cambodia, supports the implementation of the COVID-19 National Action Plan and strengthens the health system. European partners are reinforcing and reorienting their programs on nutrition as well as hygiene, access to clean water and sanitation, to be more responsive to the pandemic needs. Team Europe strongly supports the World Health Organisation and contributes to finance its programs in Cambodia.
At a time when jobs, livelihoods and food security are in danger, European partners contribute to support people, livelihoods and employment; reaching out to the most vulnerable population through social protection programs, scholarships, improved access to education, assistance to workers and returned migrants. Team Europe's programs sustain livelihoods through aquaculture and fisheries, rural infrastructures development and they contribute to address the challenges related to microfinance crisis management.
Europe will work with Cambodia to support economic recovery and job creation. Team Europe support will contribute to strengthen key areas of the economy and involve public investments for economic development, energy efficiency and green recovery. European programs and projects will contribute to build resilience in the private sector and to support job creation, to ensure a robust recovery and a more sustainable, inclusive and resilient economy, in keeping with the Agenda 2030 and the Paris Agreement
This EURO 443 million support (equivalent to USD 483 million and KHR 1,990 billion) combining new allocations, funds already programmed and redirected funds, is channelled through the Royal Government institutions and partner organisations, including civil society organisations.
* Team Europe stands for the EU and its Member States. In Cambodia they are joined by our European partner, Switzerland.
Encl. Team Europe Infographic:
EU COVID-19 Response Cambodia Data.pdf
Team Europe Development Assistance to Cambodia.pdf
Posted by:
Leadership Skills
| Posted on:
June 7, 2020
---
Source: RFA in English , RFA in Khmer, By Jack Davies
For 30 years international donors have poured money into Cambodia, and for 30 years international moneymen have helped siphon it out.
In August 1990, one year before he took up his role as U.S. ambassador to Cambodia, Charles Twining wrote that "the Phnom Penh regime is … acquiring a significant reputation for corruption." Three decades later the country has the same prime minister, Hun Sen, and his government the same reputation for graft. Another constant for the last 30 years has been the apparent willingness of outwardly respectable banks, realtors and consultants to help politically connected Cambodians expatriate their country's riches.
In recent months, an investigative series by Radio Free Asia examining the overseas real estate holdings of Cambodia's ruling elite has turned up properties worth $30 million. Upcoming stories will reveal further properties, worth in excess of $100 million.
That figure is just a drop in the ocean of wealth that leaks out of the country illicitly each year. In 2016 alone, at least $1.8 billion was laundered out of Cambodia, according to an analysis by U.S. think tank Global Financial Integrity.
---
---
Cambodia is not alone. Global Financial Integrity estimates that economies around the world haemorrhaged more than $800 billion just in 2017. The global financial system is hardwired to facilitate the movement of capital across international borders as seamlessly as possible, and for as long as it's been that way there have been well-dressed criminals taking advantage of it.
---
From Phnom Penh to Panama City
Few names symbolised the symbiosis of political power and commercial clout in 1990s Phnom Penh quite like Teng Boonma. When in 1997 Hun Sen orchestrated a bloody coup against his royalist coalition partners, Boonma admitted – but later denied – that he had stumped up more than $1 million to bankroll the bloodshed. Many observers viewed the cash as payback to a regime that had protected his lucrative businesses that skirted both sides of the law. He was a major importer and exporter of consumer goods and, according to the U.S. State Department, narcotics – a charge he repeatedly denied.
Having spent much of his life in Thailand, like many of Cambodia's early tycoons he began cutting informal deals with the country's government in the 1980s, before the economy had officially opened.
---
---
It was an open secret at the time that commercial success in Cambodia was only possible with political patronage, which came at a price. A 1994 internal memo from international cigarette manufacturer British American Tobacco stressed the "importance of Government, Provincial official contacts" for doing business in Cambodia, but cautioned, "it's clearly somewhat of a 'Pay your money, take your choice' situation, as to who today of 'influence' will be in the same position tomorrow."
What was true in 1994 was truer still five years earlier, but corporate records obtained by RFA show that did not deter lawyers in Hong Kong – then a British colony – from helping Boonma register and administer a string of Panamanian companies in 1989 to manage his commercial affairs. Meanwhile in Panama, Boonma shared a corporate lawyer with Osama bin Laden's half-brother.
---
Passports to freedom
A decade later in 1999, Boonma found himself in trouble with authorities in Hong Kong, where many of his businesses were headquartered, when prosecutors charged him with making false statements to immigration officials. Somewhat ironically, they were forced to drop the charges when the tycoon claimed immunity on the grounds he held a Cambodian diplomatic passport.
Read More …