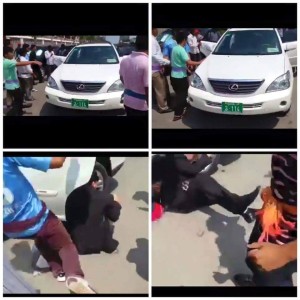 នយោប្រទេសកម្ពុជាត្រូវគេសំគាល់ឃេីញពោរពេញដោយអំពេីហឹង្សា។ ឬសគល់នៃអាកប្បកិរិយាហឹង្សានេះគឺមានដូចតទៅនេះ
១ វឌ្ឍចក្រនៃអំពេីហឹង្សាបណ្តាលមកពីអំពេីហឹង្សាក្នុងគ្រួសារ គឺឪពុកម្តាយចិញ្ចឹមកូនតាមទ្រឹស្តីអំណាចពីលេីចុះក្រោម ហេីយផ្សារភ្ជាប់យ៉ាងមាំដោយរោគសញ្ញាផ្តាច់ការ។
២ វឌ្ឍចក្រនៃអំពេីហឹង្សាបណ្តាលមកពីមរតកសង្គមកម្ពុជា គឺអ្នកប្រវត្តិសាស្រ្តបានសរុបព្រមគ្នាថានយោបាយកម្ពុជាគឺជានយោបាយហឹង្សា។
យ៉ាងណាក៏ដោយ ការណែនាំនូវជំរេីសថ្មីរបស់គណបក្សសង្គ្រោះជាតិនូវអហឹង្សានិងមូលមតិគ្នាបានឆ្លុះបញ្ចាំងទឡ្ហីករពីដៃគូររបស់ខ្លួនដែលកំពុងជោគជាំដោយកេរ្តិ័តំណែលនៃអាកប្បកិរិយាហឹង្សាដែលពិបាកលាងជំរះបាន។
វីដេអូនេះកំពុងបង្ហាញពីយុគទាន់សម័យ ដែលមិនមែនតែមនុស្សទេដែលបានរំដោះខ្លួនចេញផុតពីហឹង្សា សត្វសុនខទាំងនោះក៏បានចេះពីភាពជាមិត្ត អហឹង្សា និងសាមគ្គីភាពជាមួយសត្វមានជីវិតទាំងអស់នៅក្នុងលោក។ ជោគវាសនារបស់ស្រ្តីនោះមិនខុសពីមេដឹកនាំកម្ពុជាដែលកំពុងកាន់អំណាចទេ គឺពួកគេស្អិតជាប់ទៅដោយចិត្តគំនិតឬកោលិកាឈាមហឹង្សា។
តេីនៅពេលណាកម្ពុជានឹងទទួលបាន ការកាត់ផ្តាច់វឌ្ឍចក្រហឹង្សា?

Cambodia politics has been remarked by "violence". The root causes of this violence-oriented behavior are following: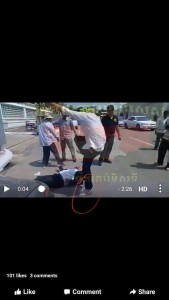 1. Cycle violence from domestic violence: parents have raised children through vertical approach and strongly embedded by violence syndromes.
2. Cycle of violence from social inheritance of Cambodia: historians have spontaneously concluded that Cambodia politics is the Politics of Violence.
Hence, the introduction of new approach by the CNRP to non-violence and solidarity has clearly contrasted its partner who has unobstructively inherited the violent political behavior.
This video is illustrating that modern era, not only human beings who are freed from violence, those dogs are learnt to be friendly, non-violent and united among all beings in this world. The woman's destiny is not different from incumbent Cambodia leaders who are embedded by the violence mindset/stemcell.
When will Cambodia receive "Breaking Cycle of Violence"?