Friday, October 21st, 2016
now browsing by day
Posted by:
Cambodian
| Posted on:
October 21, 2016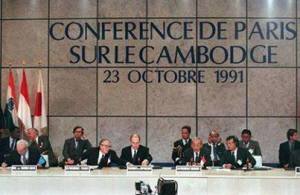 Reading view of French Foreign Affairs Minister Jean-Marc Ayrault urged Cambodia to pursue governance that respects the rule of law, multiparty democracy and human rights as well as paper produced by Lok Sivhuoch and Joakim, and Phnom Penh Post, Paris Peace Agreement has been used to advance rule by law or rule by man, not rule of law, at all.
Through my personal observation, PPA has been impregnably manipulated by both UNTAC and Cambodia government.
Government-led party CPP has not framed PPA as its core policy to produce great legacy for its effort in nation-state building at all. Sometime, the party valued it, but sometime not, and sometime take it half by leaving other half to limbo. Today, MOFAIC has taken great initiative to commemorate the day of this 25 years anniversary while the implementation especially from PM's Cabinet is widely in contrast.
Minister Prak Sokhon stressed that PPA has already been inscribed within the Constitution. With this argument, I believe, government is testing the ingenuity of the agreement rather than opening heart to expand the spirit of PPA. This matter, I am wondering why the party is regressing PPA?
PPA's goal is to bring about sustainable development, in which it is in contrast to PM's view as well as view of head of government's HRC, to maintain Cambodia in a pace of peace so that this country can build human rights. I think this argument is absolutely regressing PPA's spirit and politicians are lying to themselves in front of well-informed citizens.
Not to mention many loopholes to uphold PPA, the National Election Body which is a key factor to guarantee democracy and will of the people, the NEC that was created since 1998 and afterward, has been absolutely viewed as unprofessional, exclusive and controlled by the government-led party. Thus, I am concerned on CPP's policy to exclude diaspora Cambodians by banning them from joining the elections. This effort is contradictory to the 1993 election monitored by UNTAC which allowed voters registration and voting participation of diasporic Cambodians.
This link is very extensive articulation on Paris Peace Agreement that readers should learn something new.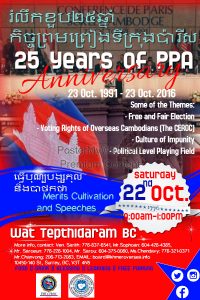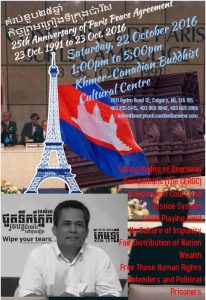 Posted in Culture, Economics, Education, Environment, Internet, KR Trial, Leadership, Politics, Researches, Social | Comments Off on You are cordially invited to join the Paris Peace Agreement commemoration
Tags: Paris Peace Agreement, PPA, PPA Commemoration