Sunday, October 9th, 2016
now browsing by day
Posted by:
Cambodian
| Posted on:
October 9, 2016
NO LIBERAL GOVERNMENT AS LONG AS HUN SEN LIVES
October 4, 2016
By Gaffar Peang-Meth, Ph.D.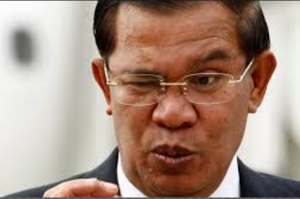 Am I witnessing an encore of Khmers resuming political circle dancing, the Ramvong, moving hands and feet, going around and around in a circle, setting aside their recent posture of traditional Chul Trei Krem, or Siamese (Beta) fish fighting game described in my last article?  
Premier Hun Sen warned against CNRP demonstrations. He stepped up intimidation, draconian judicial ruling, arrests. Nineteen 19 opposition figures, several rights workers and women activists are in jail; starting Aug. 31, masked armed soldiers cruised the area around the CNRP headquarters, navy boats with machineguns docked in the Bassac River, and helicopters hovered above.  
Politically, he tossed aside the Sep. 12 bipartisan H. Res. 728 resolution of the U.S. House of Representatives that condemns political repressions and rights abuses by his government, and calls for free and fair elections in Cambodia. Regarding the Sep. 13 Geneva statement by 39 governments urging him to respect human rights, "including the freedoms of expression, association and assembly," Hun Sen told his Ambassador to the UN to respond bluntly: "[W]e do not welcome interference in our political situation."
On the other hand, CNRP Sam Rainsy spoke via Skype from Paris on Sep. 12, asking Khmer youth activists gathering at the CNRP headquarters in Phnom Penh if they were ready to join mass demonstrations of 2013-2014 types. The youth gave him a resounding response "Yes!" Although holed up in the building for more than four months since May to avoid arrest, CNRP Kem Sokha's speech left no room for misunderstanding: "We cannot lie down, let them tie our hands and legs, close our nose and mouth until we die. Even animals would fight!"
The scene was that of agitated Beta fighting fishes that turned bright and dashing colors, flared their gills, showed their long fins, twisted their bodies, tightened their abdomen, each ready to rip out the other's gills in a fight? Khmer political opponents huffed and puffed to show their respective real or perceived power. The stage was set for Chul Trei Krem. 
And Prime Minister Hun Sen upped the ante. He declared in a speech on Sep. 19 that he was set to unleash armed military violence to "eliminate" those joining mass demonstrations: "Let me challenge all of you to come out and demonstrate now, the sooner the better." He advised CNRP figures to return to the National Assembly, "the only place to talk," and added, "I would be a dog if I were to negotiate" with the CNRP (on dropping court cases against Kem Sokha and political prisoners). Recall that Hun Sen swore earlier that he would cut off his own hand if he were to use it to sign a new pardon for Sam Rainsy to return to Cambodia. On Sep. 26, Rainsy told BBC-TV he is considering returning, amnesty from arrest notwithstanding. Hun Sen welcomed him to jail.