NO LIBERAL GOVERNMENT AS LONG AS HUN SEN LIVES
Posted by:
Cambodian
| Posted on:
October 9, 2016
NO LIBERAL GOVERNMENT AS LONG AS HUN SEN LIVES
October 4, 2016
By Gaffar Peang-Meth, Ph.D.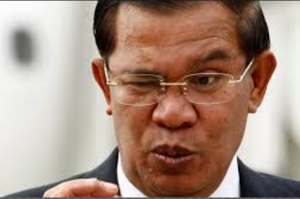 Am I witnessing an encore of Khmers resuming political circle dancing, the Ramvong, moving hands and feet, going around and around in a circle, setting aside their recent posture of traditional Chul Trei Krem, or Siamese (Beta) fish fighting game described in my last article?  
Premier Hun Sen warned against CNRP demonstrations. He stepped up intimidation, draconian judicial ruling, arrests. Nineteen 19 opposition figures, several rights workers and women activists are in jail; starting Aug. 31, masked armed soldiers cruised the area around the CNRP headquarters, navy boats with machineguns docked in the Bassac River, and helicopters hovered above.  
Politically, he tossed aside the Sep. 12 bipartisan H. Res. 728 resolution of the U.S. House of Representatives that condemns political repressions and rights abuses by his government, and calls for free and fair elections in Cambodia. Regarding the Sep. 13 Geneva statement by 39 governments urging him to respect human rights, "including the freedoms of expression, association and assembly," Hun Sen told his Ambassador to the UN to respond bluntly: "[W]e do not welcome interference in our political situation."
On the other hand, CNRP Sam Rainsy spoke via Skype from Paris on Sep. 12, asking Khmer youth activists gathering at the CNRP headquarters in Phnom Penh if they were ready to join mass demonstrations of 2013-2014 types. The youth gave him a resounding response "Yes!" Although holed up in the building for more than four months since May to avoid arrest, CNRP Kem Sokha's speech left no room for misunderstanding: "We cannot lie down, let them tie our hands and legs, close our nose and mouth until we die. Even animals would fight!"
The scene was that of agitated Beta fighting fishes that turned bright and dashing colors, flared their gills, showed their long fins, twisted their bodies, tightened their abdomen, each ready to rip out the other's gills in a fight? Khmer political opponents huffed and puffed to show their respective real or perceived power. The stage was set for Chul Trei Krem. 
And Prime Minister Hun Sen upped the ante. He declared in a speech on Sep. 19 that he was set to unleash armed military violence to "eliminate" those joining mass demonstrations: "Let me challenge all of you to come out and demonstrate now, the sooner the better." He advised CNRP figures to return to the National Assembly, "the only place to talk," and added, "I would be a dog if I were to negotiate" with the CNRP (on dropping court cases against Kem Sokha and political prisoners). Recall that Hun Sen swore earlier that he would cut off his own hand if he were to use it to sign a new pardon for Sam Rainsy to return to Cambodia. On Sep. 26, Rainsy told BBC-TV he is considering returning, amnesty from arrest notwithstanding. Hun Sen welcomed him to jail. 
Khmers say, "M'neus york samdei, Damrei york phlouk", or the value of a person lies in his/her words, the value of an elephant lies in his tusk. 
In Washington, D.C., U.S. Congressman Alan Lowenthal (D-CA), architect of H. Res. 728, told the Voice of America Khmer on Sep. 22 that the resolution "sends a message" to Hun Sen and the CPP that the U.S. "wants to hold Cambodia's feet to the fire." He affirmed, the U.S. administration "is very much aware, although . . . didn't take a stand on this resolution." He declared, "Let the people of Cambodia decide what type of government they want . . . And we stand with the people of Cambodia." Within Cambodia's current political climate how would Khmers "decide what type of government they want"?
In the midst of a tense atmosphere of confrontation, new sounds of Khmer Thaun (Khmer ton drum) emerged, marking a new round of Ramvong circle dancing: A recalculation.
As Hun Sen announced he would "eliminate" those joining mass demonstrations, and his military commanders chimed in, the Khmer Times's "Opposition Calls for Dialogue," reported that CNRP Yim Sovann told youth supporters on Sep. 17 that it was in the best interests of both the CNRP and the CPP to talk; that CPP Sok Eysan welcomed the call for dialogue but rejected dialogue to help CNRP members facing legal threats.
Wonders happen. In his Facebook, CNRP Sokha urged Cambodia's "political family" to come together duringBun Pchum Ben national holidays (Sep. 30-Oct. 1) to pay respects and generate merit to the Khmer ancestors, to uphold love, compassion, empathy, joy, abandon greed, hatred, ignorance, to build peace, "good for our ancestors, ourselves, our children and future generation."
On Sep. 20, CNRP legislator Son Chhay told reporters that as "Samdech Prime Minister said he wants to talk," so there will be "talk"; that CNRP legislative commission members would return to their seats in the National Assembly to deal with important issues of national interests.
I saw Chhay's political Ramvong choreography, a smart move. On Oct. 5, the five CNRP members of the NA permanent committee took their seats to deliberate on draft laws and policies.
For months, 55 CRNP members in the NA fought unsuccessfully against 168 CPP members, to amend thee laws (Law on the Organization of the Courts, Law on the Status of Judges and Prosecutors, and Law on the Organization and Functioning of the Supreme Council), passed in 2014, for lack of "two-thirds" votes. The CNRP sees the laws to allow Hun Sen's executive branch to overextend its power into the domain of separate and independent judicial power.
Then emerged CNRP Sam Rainsy to clarify on Sep. 21: The CNRP will make a "full return" to the NA only after a "comprehensive solution" is reached; to do so now is to accept that the political situation has become normal, which Rainsy said, is not. So, we have a continued "boycott," not a "full return," CNRP legislative commission members take their seats in the NA. No one says it better that Khmer-American Professor Sophal Ear who remarked on the CNRP position, "it's like being half-pregnant". "No such thing. Either you're in or you're out," he said.     
Demagogic Hun Sen seized on CNRP Sokha's Bun Pchum Ben call, took a high road, offered a political "ceasefire" on Sep. 22: "I want the situation to be quiet, I don't want any exchanges," and said he wants a "solution through talks." A CNRP statement says Sokha will leave the CNRP building on Oct. 5 to go register to vote. Will Hun Sen arrest him then?  
These occurrences are the essentials of the Khmers' political Ramvong of dancing around and around in a circle, and not the sensual ballroom dance, the Tango, with one man and one woman displaying romance in synchronized movements.
Last May, renown scholar on Cambodia, David P. Chandler, told the Voice of America Khmer in an interview: "I am not optimistic. If being optimistic means political change that would produce a more liberal government where the National Assembly has the power as it is supposed to have under the Constitution – I don't see that happening as long as [Hun Sen's] alive."
In the interview, Chandler also said, "I'm never going to say or anywhere else that Hun Sen should be overthrown by force, but he is not going to be overthrown any other way." In Chandler's view, Hun Sen's "worried about being overthrown in an election. But he's not going to allow that to happen." I agree, Hun Sen will not accept losing the 2018 general elections. The title of my last article was "Call Off Unfair Elections, Or Accept Outcome."
Let me repeat, in a free and fair election Hun Sen will have no prayer to stay in power: After 31 years under his rule, Cambodians, who are no longer imprisoned by centuries-old Khmer belief in korup, kowd-klach, bamroeur, karpier, smothtrang (respect, admire-fear, serve, defend, and be loyal to) individual devarajas, want change. Lord Buddha teaches, "Nothing is permanent." Khmer advocates of liberty and justice need to do more than calling for unity.
There is the "Global Magnitsky Human Rights Accountability Act," or S. 284, introduced on Jan. 28, 2015 by Sen. Benjamin L. Cardin (D-MD), and passed the Senate on Dec. 17.  S.284 is an Act to "impose sanctions with respect to foreign persons responsible for gross violations of internationally recognized human rights, and for other purposes." On April 18, 2016, the bill was referred to the House Committee on Foreign Affairs and the House Committee on the Judiciary. Cambodian democrats who gave their all to assist H. Res. 728, should go all out for the passing of Bill S.284, now in the House. This bill will affect Hun Sen and members of his ruling elite.
According to Section 3, the bill "authorizes the President" of the United States "to impose U.S. entry" i.e., to deny admission to the U.S., "and property sanctions" i.e., to freeze all assets in the U.S., "against any foreign person (or entity) who is responsible for extrajudicial killings, torture, or other gross violations of internationally recognized human rights. . ." Then, on Sep. 15 the International Criminal Court (ICC) in The Hague presented a new policy allowing prosecutions for crimes of "destruction of the environment", "exploitation of natural resources," and the "illegal dispossession" of land. Hun Sen and his ruling elite are a step closer to prosecutions: A reported 10 percent of Cambodia's land has been carved up by 230 companies, some 770,000 Cambodians (or 6 percent of Cambodia's population) have been affected by land grabs in Cambodia since 2000.
Gaffar Peang-Meth, Ph.D., is retired from the University of Guam where he taught political science for 13 years. He now lives in the U.S. mainland and can be reached at
peangmeth@gmail.com
.