The day of January 7 celebration imposed by the CPP has gradually come to its end
Posted by:
Cambodian
| Posted on:
January 22, 2017
Political Paradigm of Pragmatism from the Khmer Youth part 94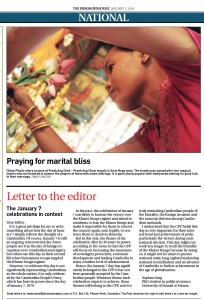 This part (94), Mr. Sophan articulated on the regular anniversary celebration of January 7 day imposed by the Cambodian People's Party (CPP). His key view on this day is the decreasing its value from year to year. Each year, the anniversary celebration has posited its theme in according to the need for change of the Cambodian people. But the decrease of vote in each election mandate, the CPP has seems been negligent by not stopping to celebrate this day.
Needless to say, this celebration has been observed by the scholars that it is like putting Cambodians people into a cage and let them fight against each other. But when this celebration has decreasingly been paid attention by the Cambodian population, its value is moving fast towards its ending.
Celebration this day and the ongoing impunity of broad day light murdering towards well-known Cambodian activists such as Chea Vichea, Chut Vutthy, and Kem Ley etc. has placed CPP in its continual loss of people support and eventual annihilation, but why this party's leader(s) are still embracing them without make them better?