Saturday, January 7th, 2017
now browsing by day
Posted by:
Cambodian
| Posted on:
January 7, 2017
Political Paradigm of Pragmatism from the Khmer Youth part 92
This part (92) broadcasted by CMN Radio on Dec. 26-27, 2016, Mr. Sophan articulated on weak
institution in Cambodia that could lead to chaos and internal violence. This weak institution caused by authoritarianism leadership through lens of hybrid regime political leadership between democracy and communism. Observing from current Hun Sen leadership, he has likely adopted democracy through multiparty and election to fit his central power ambition. Also, he has likely adopted some sorts of communism to fit his central power ambition. For real democracy, the effort of leader is to endorse collective interest of the nation, rather than diffusing to personal interest and long lasting power projection. For pure communism, no multiparty conducting as well as no democratic election has ever operated, but those countries have been rigid in strengthening the rule of law and limiting the mandate of powerful top leaders. Cambodia has none of above leadership styles.
By reflecting the present viral distribution through social media of incident happening in Poipet, linking to recent racking down on civil society members and political opponent activists, the trend of weakening state's institution to empower personal power and clan network shall result in social distrust, conflict and violence. This latest sign is a sign of failed state through operation of pseudo-democracy or hybrid regime endeavour in Cambodia.
Posted by:
Cambodian
| Posted on:
January 7, 2017
Op-Ed: Khmer Time
Why Did Vietnam Overthrow the Khmer Rouge in 1978?
PHNOM PENH Aug. 7 (Khmer Times) – For historians, a black hole yawns in modern Cambodian history.
This is the decade after Vietnamese  troops expelled  the Khmer Rouge from Phnom Penh, on January 7, 1979. For another 10 years, Cambodia was run virtually as a Vietnamese colony, until September 1989, when the last Vietnamese troops left Cambodia.
Today, none of the major players has any incentive to open archives for historians.
In Vietnam, the Communist Party of Vietnam continues it unbroken hold on power. In Moscow, Soviet KGB archives have been sealed on orders of President Putin, a former KGB colonel.
And in Cambodia, Prime Minister Hun Sen got his political start 35 years ago, when he was appointed a Deputy Prime Minister of the Vietnamese-installed government in Cambodia.
Bernd Schaefer, a German historian of the Cold War era, has found a unique end run around this history blackout.
 East German Archives
He studies the East German secret police and diplomatic files on Cambodia and Vietnam during this hidden decade.
Next to the Soviet KGB, East Germany's Stasi secret police was the main training partner of Vietnam's secret police.  In 1978, Vietnam became a full member of the
Soviet Union's COMECON economic bloc and signed a friendship treaty with Moscow. Until the collapse of communist East Germany in 1990, its diplomats had wide access to political reporting from Communist ambassadors stationed in Hanoi and Phnom Penh.
Every year, Schaefer, a senior scholar with the Woodrow Wilson International Center's Cold War International History Project in Washington, travels to Phnom Penh to lecture on Cambodian history at Meta House. Between lectures, he sat down at Villa Langka for an extensive interview with the Khmer Times.
Why did Vietnam invade Cambodia in December 1978?
"From the East German files I have seen, from early 1978 on, the Vietnamese were committed to replace him, to get rid of Pol Pot, and to get a sympathetic government in Phnom Penh," said Schaefer. "In Hanoi's eyes, a government friendly to Vietnam was absolutely essential to the security of Vietnam."
Starting in 1977, the Khmer Rouge conducted cross border raids into Vietnam, killing thousands of Vietnamese civilians. Khmer Rouge leaders spoke openly of wanting to conquer historically Khmer lands in what is modern Vietnam.
Holding Vietnam back was fear of a military reaction by China, the primary geopolitical ally of the Khmer Rouge.
"They were afraid that if Vietnam moved into Cambodia, then the Chinese would move into Vietnam, and then you would have a two front war," said Schaefer, referring to East German diplomatic cables.
Fear of Chinese Soldiers
In December, 1977, a half-hearted invasion of Cambodia by Vietnam raised the specter in Hanoi of Vietnamese soldiers fighting Chinese soldiers in Cambodia.
"They captured a lot of advisors from China and North Korea, and they extrapolated what were a lot of Chinese soldiers in Cambodia," Schaefer said of the December 1977 invasion, which stopped 38 kilometers short of Phnom Penh. "Later, when the Vietnamese actually did invade, many of the Chinese they thought were troops were actually construction workers, advisors. And they did not put up a fight."
Through 1978, the Khmer Rouge continued to attack Vietnamese border towns, and the Vietnamese plotted the timing of a fullscale invasion. They chose a time when China's leadership was distracted.
The Vietnamese invaded on Dec. 25, 1978, right after a highly divisive Chinese Communist Party plenary session in Beijing. In addition to this distraction, China's paramount leader of the time, Deng Xiaoping,  was preparing to normalize China's relations with the United States on Jan. 1, 1979, and to make a groundbreaking trip to the United States on Jan. 29. Hanoi seized this window. Its troops reached Phnom Penh in 13 days, on Jan. 7. The West was largely distracted with Christmas and New Year's holidays.
China's Punishment
China's punishment of Vietnam came on Feb.17, barely two weeks after Deng returned from the United States. China's cross border attack on Northern Vietnam was purely punitive. Vietnamese troops remained in Cambodia for a decade.
Posted by:
Cambodian
| Posted on:
January 7, 2017
Op-Ed: The CEROC
Political Paradigm of Pragmatism from the Khmer Youth part 91
This part (91), Mr. Sophan expressed thanks to leaders of CNRP ie. Sam Rainsy and Kem Sokha who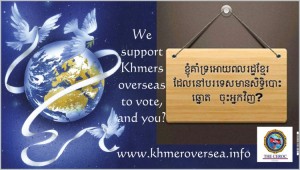 have repeated on their public speech to grant voting right to Cambodians overseas. Both leaders have thoroughly articulated on due procedures and resolutions to help Cambodians overseas to vote during each Cambodia election.
On behalf of the CEROC, those speeches are significant to push for final solution by amending laws to clearly allow Cambodians overseas with voting right to vote in Cambodia elections. As voters registration for commune election has already completed, the CEROC is urging all law-makers to be ready for national election 2018.