Search Results
Search Term:

victimize
Number of Results:

5

Dear Respectful Members,

This thread is to express my deep sorry and frustration that because of what I mentioned about "PM Hun Sen didn't appear in the group photo because he said he was at the toilet?" that made Louk Pu BA faced removing from the Campro group (link 1, link 2). Whatever reasons his removal is referred to, I think that, this action is just a paralleled "victims are victimized" conduction in Cambodia society.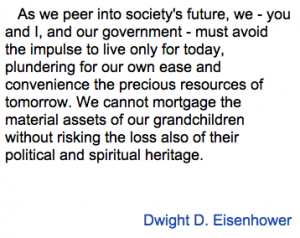 Observing from those most fundamental activities to the most essential practises on national stage, they are showing us (the underdogs) the path to its evilization that we should shoulder to deevilize them, if possible. Parents have victimized their children by just their excuse "I am your father/mother", neighbours have victimized children through their funny bullying behaviours, and state leaders have used laws for their advantage to suppress the victims of land grabs and incompetence of the courts and dissents etc.
With the below attached threads, we might get some more info on what Pu BA is facing. He emailed me privately to anticipate my claims of PM Hun Sen was busy in toilet allowing the eminent leaders of Australia-ASEAN took group photo without him. I think Pu BA is among those Cambodian-Australians who were affected by the outrageous life threatening by PM Hun Sen's public speech. Some sarcastic words of Pu BA towards PM Hun Sen is not been comparable to what PM Hun Sen has used state's medium to denounce, to scold, to threat, and to anticipate grip of intimidation towards those dissents against him, at all.
I have always described the "victims are victimized" as a social failure in Cambodia. This activity has run underneath social fabric and caused our future short and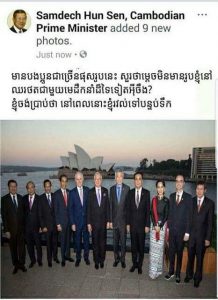 unsustainable. Once, the conviction was laid that "
While the Western countries believe in giving space and liberty to their citizens to bravely speak up their voice and fully engage in social development in the hope of long term survival of their motherland, Cambodia is in dichotomous effort by the government. This historical and remarkable contrast has happened since Cambodian people protest against the additional border treaty with Vietnam in 2005, many of them were arrested and jailed, once Prime Minister Hun Sen promised to make coffins for those who dare to claim back Khmer Krom lost land for Cambodia, and with many other occasions including banning Alex from his campaign to protect the Cambodia forests, is seen as an attempt to threat those bottom line people activism who are working to protect their lands and forests and to open way or encourage the wrong doers such as land grab activities, deforestation and logging, and forced eviction etc. to continue their wrong deeds without obstacles
" 
(original link).
As some of the members said, in our discussion group, there are variety of speeches, sarcasms, threats(sic), and harsh exchanges etc. but at th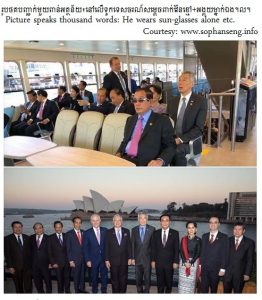 e end, this is how the wise have learnt to accept, to tolerate, and to exchange knowledge within a healthy multi-cultural setting. Some regulations and rules are good in producing healthy multi-cultural society, but some are just tools for the controllers to exercise their own biased territory. So let be frank in ourselves and treat things fairly and credibly.
I would like to plea Louk Sophal to explain more reasons to deleting/removing Pu BA from the group. With two warnings will become completely removing is still redundant. This practice has placed all other members at stake and reduced the quality of goals and definition and mission statement set within Campro by all members. Pou BA should be asked for his volunteering stance of view rather than being dictated towards him. And he should be reinstated.
Thank you very much for your kind consideration.
Sophoan
Now, it has come to the critical questions: 1. The Fresh News has always released news to open way for action (messenger to those unheard members?, or 2. Fresh News got information from internal action plan and has tried to test the water?

At the end, it is the rice has become a cooked rice (អង្ករក្លាយជាបាយ): step forward face the crocodile, step backwards face the tiger….it is all about the one person who are working to change the credible rule of the game (game changer) to fit his ambition.

In this moment, the victimized partner is silent which means allow the cruise to slip through its path without obstructing while enjoy the bigger space from cruise territory.

The critical question right now is not about plundering the fruits to own themselves or to distribute to others who have effortless grown the tree, the critical question is about the legitimate government to do such daylight plundering, and the legitimate government given birth from a legitimate election.

Khmer proverb say "the bigger balloon, the bigger perilous exploding" (ពើតប៉ោងកាន់តែធំ កាន់តែបែកខ្សុល)
Op-Ed: The Phnom Penh Post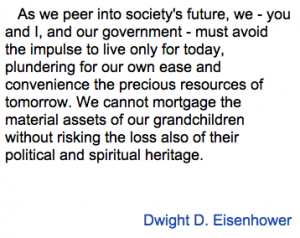 An opinion piece published by government mouthpiece Fresh News suggests, among other things, dissolving the Cambodia National Rescue Party and allocating its National Assembly seats to five minor parties, including Funcinpec, which plans to sue for the dissolution of CNRP.
The piece is the latest in a stream of often anonymous editorials and letters to the editor, which in the recent past have proven prescient during a crackdown on the opposition and media.
The article, under the name Baksey Chamkrong, begins by noting that the CNRP is guilty of "secret plans" of "colour revolution".
The opposition party's president, Kem Sokha, was arrested last month on charges of "treason", and controversial amendments to the Law on Political Parties could allow for the dissolution of the CNRP if he is convicted.
Over the weekend, Funcinpec announced its intention to file a lawsuit to the Supreme Court requesting the CNRP's disbandment.
"If CNRP is dissolved, then all seats … are divided among parties in the parliament. But because there are only two parties in the parliament, the CPP will get all 123 seats," wrote Chamkrong, whose pseudonym translates to "Bird Guarding the City".
Sotheara Yoeurng, legal officer at election watchdog Comfrel, confirmed that under the current law the seats "would be 100 percent allocated to CPP"."In a real sense of democracy, it would be death," Yoeurng said.
Deputy CNRP President Mu Sochua said such an outcome would violate the constitution, which describes Cambodia as a "multi-party democracy".
Human Rights Watch's Phil Robertson, meanwhile, said, "If the government really plans to dissolve the CNRP then it should just call off the 2018 election and proclaim PM Hun Sen dictator for life."
Robertson called the article part of a "psychological operations campaign" against the opposition. "One by one, the CPP is whittling down the opposition through a mixture of threats and intimidation designed to stampede them out of the country," he said via email.
Past Fresh News articles preceded the expulsion of the US-backed National Democratic Institute and the arrest of Sokha, with a parade of posts detailing the alleged involvements of both in anti-government conspiracies and colour revolutions.
In his opinion piece, Chamkrong recommends a compromise allocating seats to minor parties rather than for the CPP to take the entire assembly, following an amendment to the Law on the Election of Members of the National Assembly.
CAMBODIA: Time to get to work
FOR PUBLICATION
AHRC-ETC-036-2013
October 17, 2013
An article by Dr. Gaffar Peang-Meth published by the Asian Human Rights Commission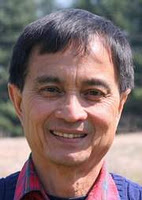 The more Hun Sen attempts to ignore grievances of the increasingly vocal cohort of Cambodian voters who allege election irregularities and fraud, the more the emboldened and determined opposition party demands an independent impartial joint CNRP-CPP investigation committee to seek more accurate accounting of ballots cast in the July 28th national election.
A metaphor seems appropriate. Imagine spectators gathering around a glass jar filled with water to watch one of Cambodians' passtimes, chul trei krem or fish fighting. Two fish swim around, looking for one another's weak area to attack. Gills open, fins and tails flapping, their scales turn dark colors, the fish seem to contract, poised to attack. Would it be a fight to the death or will an owner interrupt the fight to save his fish for the next fight?
The Cambodians' political deadlock is a tragedy. There cannot be a winner. Hun Sen and his CPP know, and concerned foreign governments, too, know, the ruling party can in no way continue to govern as a one-party government and a one-party parliament devoid of opposition members who were duly elected by at least half of the country's voters. Half of the country has openly rejected Hun Sen's 28 years of autocratic rule and the CPP's 34 year domination of Cambodian governance. Even many CPP partisans acknowledge that fresh leadership is overdue. In fact, reliable reports assert that increasing numbers of civil servants are unhappy with the status quo and that officers in the armed forces are overtly questioning if they are on the wrong side of history.
Hun Sen and his close associates are vehemently against an investigation committee. His reluctance is suspect if, as Hun Sen asserts, the CPP won the election fairly. Sam Rainsy is on the record as saying he would abide by the findings of a nonpartisan investigating committee.   Would the true reason be that Hun Sen has no intention of ceding power? The aftermath of Cambodia's recent election has surely made clear that Hun Sen and the CPP are no longer secure nor uncontested as they once were. More Cambodians agree it's time for change, ph'do.
Hun Sen seems aware of his tenuous hold on power. So, on Sept 26 he spoke at his first new cabinet meeting for more than 6 hours about reforms, addressing corruption, nepotism, the rule of law and other issues. But Cambodians say Hun Sen and the CPP have made many undelivered promises before. Hun Sen's proposed reforms may come too late.