Hun Sen at UNs
now browsing by tag
Posted by:
Cambodian
| Posted on:
November 7, 2018
Op-Ed: EastAsiaForum
Cambodian Prime Minister Hun Sen is continuing to push the limits of personal power consolidation. While his strategies have been highly successful so far, they are likely to result in greater political insecurity in Cambodia.

Several concerning developments have emerged in 2018. Since the Supreme Court banned the main opposition party — the Cambodia National Rescue Party, or CNRP — in November 2017, Hun Sen has further consolidated his power by appointing family members to top government positions.

Some of these promotions were of his children. For instance, in late 2017 Hun Sen appointed his third son, Hun Manith, as General Director of the General Directorate of Intelligence, a new intelligence unit designed to train spies for combat against terrorists and any suspected threat from 'revolutionary' forces. Hun Sen also promoted his son-in-law, Dy Vichea — former head of the Ministry of Interior's Central Security Department — to Deputy Chief of the National Police. Most importantly, Hun Sen elevated his eldest son Lieutenant General Hun Manet as a General (four star) following his promotion to Deputy Commander in Chief of the Royal Cambodian Armed Forces (RCAF).

These tactical moves are part of the Prime Minister's long-term strategy to consolidate power, which has been in place since he removed his then co-prime minister, Norodom Ranariddh, from power in July 1997. Hun Sen has used coercive means to tighten political control over state institutions and co-opt loyal followers. Hun Sen now maintains tight control over the judiciary and electoral processes at both the local and national level and his party, the Cambodian People Party (CPP), dominates the bicameral legislature.

Why has Hun Sen carried out these tactical moves? For some commentators, they are simply a part of Cambodia's entrenched political culture of authoritarianism, nepotism and patrimonialism. While there is some truth to this way of looking at Cambodian politics, it overlooks Cambodian leaders' deep sense of insecurity, which drives them to weaken opposition forces by all means necessary. Hun Sen has been comparatively more successful than past Cambodian leaders in consolidating power, and is continuing to expand his domination of Cambodian politics after more than three decades.

Despite this success, Hun Sen still appears to feel insecure. His efforts to fill top government positions with family members are not simply about building a family business empire but rather about shutting down potential threats from within and without. This may explain why Hun Sen maintains a bodyguard unit of up to 6000 well-equipped and highly-paid troops.

Hun Sen's sense of political vulnerability is also reflected in the words of Hun Manith, who reportedly said that the new General Directorate of Intelligence was designed to deal with 'internal and external disturbance from a hostile and ill-intended group of people' and that 'the political and security situation and competition in the future will be more intense than in previous years'.

But Hun Sen is making the same mistake of the many Cambodian leaders before him: maximising political security by endlessly consolidating power. Hun Sen appears to believe that this strategy will continue to work for him. The problem with this strategy, though, may emerge from Cambodia's external environment.

Hun Sen has taken advantage of the post-Cold War peace dividend and is also enjoying growing support from China. But he runs the risk of over-relying on Beijing's support. The extent to which China is prepared to protect the CPP is difficult to determine, but what is clear is Chinese leaders' long history of abandoning their allies when much was at stake. While Hun Sen may be aware of this possibility, his strategy to weaken domestic political challenges may increase his political insecurity.

Another problem with power consolidation through nepotism or patrimonialism is that it tends to invite resistance and opposition from both within the party and without. At some point, forces opposed to Hun Sen will grow stronger and nastier, especially if an economic downturn hits the country. And if Western democracies begin to impose sanctions on Cambodia, not only will ordinary Cambodians suffer, but the ruling elite will also face a legitimacy crisis. In this scenario, the CPP is likely to resort to even more repressive violence and may even end up self-imploding.

Current and future Cambodian leaders need to realise that security maximisation through unrestrained power consolidation is counterproductive and dangerous. Security does not necessarily result from others' insecurity. But for this to happen would require CPP leaders to shift from a self-serving strategy to one that considers the security of others through effective dialogue and democratic power sharing.

Sorpong Peou is a Professor with the Department of Politics and Public Administration at Ryerson University, Toronto.
Posted in Culture, Economics, Education, Environment, Internet, Leadership, Politics, Researches, Social | Comments Off on Hun Sen's power paradox
Tags: Cambodia authoritarianism, Hun Sen, Hun Sen at UNs

Posted by:
Cambodian
| Posted on:
September 25, 2018
ការប្រជុំអង្គការសហប្រជាជាតិលើកទី៧៣ស្តីអំពីការកំណត់វាសនារួមកាន់នៃប្រជាជនពិភពលោក លោកនាយករដ្ឋមន្ត្រីកម្ពុជាត្រូវបង្ខំចិត្តមកចូលរួមខ្លួនឯងដែលខុសពីលើកមុនៗ ភាគច្រើនត្រឹមបញ្ជូនទេសរដ្ឋមន្ត្រីនិងរដ្ឋមន្ត្រីក្រសួងការបរទេសមកចូលរួម។
មានសំណួរ សួរថានៅពេលដែលលោកហ៊ុន-សែនបានរៀបចំការបោះឆ្នោតក្លែងក្លាយដើម្បីឡើងកាន់អំណាច ហេតុអ្វីអង្គការសហប្រជាជាតិត្រូវអញ្ជើញលោកមកថ្លែងការណ៍? -តាមពិត អង្គការសហប្រជាជាតិមិនបានអញ្ជើញទេ គឺតំណាងប្រទេសមួយៗអាចរៀបចំយ៉ាងណាអោយមានតំណាងខ្លួនមកថ្លែងការណ៍ពេលមានប្រជុំប្រចាំឆ្នាំម្តងៗតែប៉ុណ្ណោះ។ តែពេលនេះលោកហ៊ុន-សែនទទួលបានការគាបសង្កត់ខ្លាំងពីគ្រប់មជ្ឈដ្ឋានទាំងប្រជាជនខ្មែរអ្នកបោះឆ្នោត ទាំងគណបក្សសង្គ្រោះជាតិ ទាំងក្រុមការងារគណបក្សប្រជាជនខ្លួន ទាំងប្រទេសដែលមិនទទួលស្គាល់លោកមានសហគមអុឺរ៉ុបនិងអាមេរិកជាដើម និងទាំងប្រទេសដែលគាំទ្រលោកដើម្បីប្រយោជន៍របស់គេគឺប្រទេសចិនជាដើម។
តើលោកហ៊ុន-សែននឹងប្រឈមអ្វីខ្លះនៅអង្គការសហប្រជាជាតិ?
– ទី១ គឺបាតុកម្មប្រឆាំងរបស់សហគមខ្មែរមកពីអាមេរិកនិងកាណាដានៅមុខអង្គការសហប្រជាជាតិនាទីក្រុងញូយ៉ក។ ពួកគេទាំងអស់នោះ ចំណាយកំឡាំងកាយចិត្តរបស់ខ្លួនព្រោះមើលឃើញកំហុសឆ្គងរបស់លោកហ៊ុន-សែនចំពោះនីតិរដ្ឋ(rule of laws), សេដ្ឋកិច្ច(economy), សេរីភាព(freedom), សិទ្ធិមនុស្ស(human rights), ប្រជាធិបតេយ្យ(democracy), ការបោះឆ្នោត(election), និងភាពថ្លៃថ្នូររបស់បច្ចេកបុគ្គលខ្មែរម្នាក់ៗ(dignity of individual Khmer)ខ្លាំងពេក។
– ទី២ ប្រទេសនៃសមាជិកសហគមអុឺរ៉ុបនិងសហរដ្ឋអាមេរិកនឹងប្រើប្រាស់ឱកាសវត្តមានរបស់លោកហ៊ុន-សែនដើម្បីលើកឡើងនូវបញ្ហាធំៗមានការទំលាក់ចោលការចោទប្រកាន់ទាំងអស់និងអនុញ្ញាតអោយគណបក្សសង្គ្រោះជាតិត្រឡប់មកប្រក្រតីភាពឡើងវិញជាដើម។ បារាំងនឹងធ្វើជាមជ្ឈន្តិករនៃការសំរបសំរួលក្នុងនាមជាសហប្រធាននៃកិច្ចព្រមព្រៀងសន្តិភាពទីក្រុងប៉ារីស២៣ តុលា ១៩៩១។
សូមបញ្ជាក់ថាសហគមអុឺរ៉ុបដែលមានសមាជិកជាច្រើនឈររឹងមាំនៅអង្គការសហប្រជាជាតិធ្លាប់ស្នើរអោយមានការព្យួរអាសនៈកម្ពុជានៅអង្គការសហប្រជាជាតិបើកម្ពុជាមិន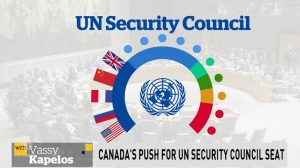 ត្រឡប់មករកប្រក្រតីភាពឡើងវិញទេ។ ប្រទេសបារាំង អង់គ្លេស និងសហរដ្ឋអាមេរិក ជាសមាជិកសន្តិសុខអចិន្ត្រៃយ៍ក្នុងចំណោម៥ប្រទេសរួមទាំងចិននិងរុស្សុី។ គេមិនប្រាកដថាចិននិងរុស្សុីអាចការពារកម្ពុជាបានទេ បើប្រទេសនេះត្រូវប្រឈមការគាបសង្កត់ធ្ងន់ធ្ងរពីប្រទេសទាំងអស់នៅអង្គការសហប្រជាជាតិ។ ក្នុងអង្គប្រជុំនោះ អ្នកស្រីបណ្ឌិតរ៉ូណាស្មីត ដែលជាប្រេសីតពិសេសរបស់លោកអគ្គលេខាអង្គការសហប្រជាជាតិលោកអន់តូទីអូ ហ្គូតើរ៉េស (Antonio Guterres) នឹងធ្វើសេចក្តីរាយការណ៍លំអិតដល់សមាជិកទាំងអស់របស់អង្គការសហប្រជាជាតិអំពីសិទ្ធិមនុស្សនិងសេរីភាពដែលកំពុងកើតមាននៅកម្ពុជា។
ខុសពីដូណាល់ត្រាំ លោកប្រធានាធិបតេយ្យម៉ាក្រុនឈរយ៉ាងរឹងមាំនូវស្ថាប័នសកលលោកនិយម(globalism)តាមរយៈការខិតខំរួមគ្នា(collective effort) ហើយសិទ្ធិមនុស្សមិនមែនជារឿងដែលយើងអាចអនុគ្រោះ(compromise)បានទេ វាជាកាតព្វកិច្ចរួមគ្នា(collective obligation)។ ខុសពីលោកត្រាំដែលសំលឹងមើលប្រយោជន៍ប្រទេសមួយៗ លោកម៉ាក្រុនសំលឹងមើលការសហការពហុភាគី(multilateralism) មិនទទួលយកបាននូវឯកពន្ធភាព(unilateralism)បានទេ។
ស្តាប់បទថ្លែងការណ៌របស់លោកម៉ាក្រុនទាំងស្រុង៖
ស្តាប់បទថ្លែងការណ៍របស់លោកដូណាល់ត្រាំទាំងស្រុង៖