A prominent Cambodian opposition senator who angered Prime Minister Hun Sen with a Facebook post has been arrested and will be charged with treason, a government spokesman has said.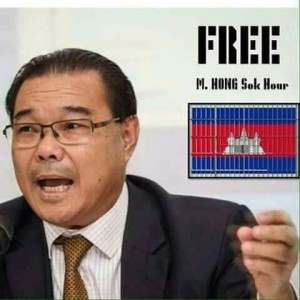 Senator Hong Sok Hour was accused of treason by Hun Sen for posting a treaty that purported to show Cambodia's former head of state Heng Samrin pledging to dissolve the Cambodian-Vietnam border in 1979, The Cambodia Dailynewspaper reported.
"There is a post on Facebook concerning a fake treaty, which cannot be pardoned and needs action taken," the prime minister said in a speech on Thursday.
"Pochentong [Phnom Penh International Airport] and all the other checkpoints have been blocked. So arrest this person, and do not let him run into a foreign embassy."
At the break of dawn on Saturday morning, Hun Sen's wishes were carried out, with heavily armed police photographed arresting the senator from the opposition Cambodia National Rescue Party (CNRP).
Government spokesman Phay Siphan told the Reuters news agency that Sok Hour had been "detained in the police department for questioning".
CNRP politician, Ou Chanrith, said that the posted treaty was fake, but said Sok Hour had not committed a treason and his arrest was "illegal" as senators have immunity from arrest or prosecution.